This week's roundup of iOS accessories features the usual array of iPhone and iPad add-ons, but with a focus on gadgets that bring your MP3 collection to life.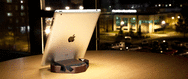 ColorWare: Some iOS accessory makers love to give their products complicated designs and complicated names. Not ColorWare, whose $200 Wedge iPad stand is pretty much exactly what its blunt name suggests. The Wedge is a precision-machined block of aluminum, with slots cut into it to allow an iPad to be displayed at 40-, 50-, 70-, and 80-degree angles. The stand also features rubber soles to keep it from sliding around on a desk or tabletop, and each slot is lined with suede to prevent scratches to your tablet.
Etre: It's about to get cold. UK-based Etre's line of iOS-compatible gloves lets you play Angry Birds while keeping warm. The $56 Touchy gloves get the job done the old-fashioned way, by offering coverage for all but your thumb and forefinger. The $64 FivePoint gloves offer total coverage, with special capacitative material in the fingertips that allows for comfortable iOS operation in extreme temperatures. The gloves are otherwise made from soft wool to prevent scratches to your iPhone or iPad's screen.
Genius: This Taiwanese company has announced two new docking systems, the $70 SP-i500 for iPhones and the $120 SP-i600 for iPads. The former features a 1.5-inch speaker for playing music from your iPhone; the latter has two 2-inch drivers to provide stereo sound while listening to audio or viewing video. The SP-i600 also features a remote control, and an additional audio-input jack for using the speakers with other devices.
iFixit: Steve Jobs was famous for trying to rid his products of screws and bolts, the better to hide the insides of his products from the outside world and preserve a sense of magic about them. So we're not sure what he'd make of iFixit's $30 iPhone 4S Transparent Rear Glass Panel, a kit that lets you replace the back of your phone with, well, a transparent rear glass panel, the better to show off the device's magical innards. The package comes with a "liberation kit" of tools to extract the phone's original rear panel, as well as a cloth for drying wet phones and a film protector for the iPhone's screen.
Insanely Great Products: This new, confidently named company announced its launch this week with an emphasis on U.S.-based manufacturing of its iPhone-mounting products. Those products include the $20 Willy, a deskop device; the similar $10 Jack; the $35 Norm, for hands-free iPhone use in your car; and the $15 Clip & Go.
JBL: The audio company has introduced the $500 OnBeat Xtreme, a Bluetooth-enabled speaker system that also provides a dock cradle that fits the iPhone, iPod, and even the iPad. The OnBeat Extreme includes JBL's Ridge tweeters and Hercules woofers, and comes with a remote control with a range of 30 feet. There are plenty of multimedia possibilities here: the OnBeat Xtreme enables hands-free calling with Bluetooth-enabled phones, and includes a cable that lets you deliver video content from your iPad or iPhone to a television set. The system charges your docked iOS device even when the speakers are not in use.
The Joy Factory: This accessory maker has announced several new products, covering an array of uses. The $25 Monet stylus looks a bit like a drumstick; it will soon be joined on the market by the DaVinci line, for use with iPhones and iPads. Also new are iOS-compatible DuraLink USB-to-dock-connector cables, available in 3-inch ($15), 4-foot ($20), and 6-foot ($25) versions. The company is also marketing the $50 PowerQ international USB charging device.
Klipsch: Caroline says that if, on some perfect day, you want to take a walk on the wild side in Berlin, while listening to a sad song with your Coney Island baby—but not Sally, because Sally can't dance—then Klipsch's new $400 Lou Reed Signature Edition Headphones are probably the way to do so. (If you understood that sentence, you're probably in this product's target demographic.) The Apple-focused canalbuds come with a three-button, inline remote/microphone module for controlling calls and music on your iPhone, as well as for clear phone-call audio. It's something you can show off at all tomorrow's parties.
Tascam: iOS devices are increasingly used to create and record music. The $79 iM2 Stereo Microphone assists in that process, letting users convert their iPhone or iPad into a high-quality stereo recorder. The iM2 plugs into the dock-connector port of your iOS device, and it lets you adjust the unit's microphones up to 180 degrees to point them in the appropriate direction for CD-quality sound recording. The microphone comes with a stereo limiter to prevent recording issues from unexpected explosions of sound. The iM2 also includes features for monitoring and controlling its features.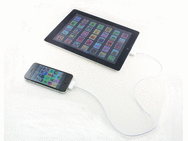 USBFever: If you want to transfer photos between your iPhone and iPad—and iCloud's Photo Stream feature isn't getting the job done for you, for some reason—the $15 OEM Apple Dock Connector Male to Male Cable will prove handy. As the name suggests, the cable sports a dock-connector plug on each end, one for the iPhone and the other for iPad, and is designed specifically to allow you to transfer photos between the two devices. USBFever promises that "no other methods will transfer as quick as this one."