Gift Plan by Glasshouse Apps is a beautifully designed iPhone app for organized, year-round gift list management—provided you're willing to take the time to learn how to take advantage of its features.
The app is organized into four categories—Calendar, Ideas, Shopping, and Occasions—that you access from a tray at the bottom of the app for easy navigation. You can view upcoming events in Calendar, brainstorm in Ideas, and view your list in Shopping.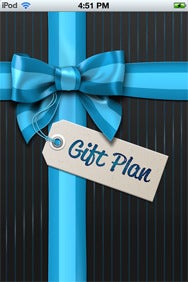 Things get a little more complicated in the Occasions section. As you may expect from the name, you manage upcoming events in Occasions. But this also happens to be the only place in the app where you can view the people on your gift list. Most other gift list management apps have a separate section for people; Gift Plan does not.
Instead, you see a list of upcoming occasions with a sub-list underneath showing each person you are shopping for on that occasion. Occasions include contacts' birthdays, Christmas, and anniversaries. You can also create new occasions specific to an individual contact.
Although you can't organize your contacts into groups, or even view them alphabetically, you can filter which occasions you see, giving the page a less cluttered look.
The ability to sync the photos and birthdays of your Facebook friends and iPhone contacts is one of the best features of this app. You can also easily choose which friends you want to sync, saving you the trouble of having to import each and every contact.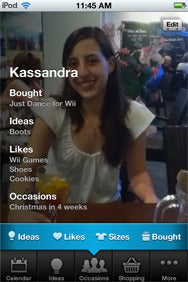 Once you've added someone to an occasion, you can personalize the entry by specifying likes and dislikes, clothing sizes, and potential gift ideas. That way, if you have an idea for a birthday present months before a friend's birthday, you can add it in easily and come back to it later.
You can also set Gift Plan to send you push notifications at specified times before each occasion. The default is one week, but you can set up to two different times for notifications. The app also lets you set up a password to keep your gift ideas away from prying eyes.
Gift Plan shines thanks to its versatility. It will work well for holiday shopping but will easily translate into a year-round gift planning tool. It's not the most intuitively designed app, but Gift Plan makes up for that with its attention to detail.
[Karissa Bell is a Macworld editorial intern.]