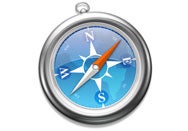 Apple on Tuesday released Safari 5.1.2 for Mac OS X Lion 10.7.2, OS X Snow Leopard 10.6.8, and Windows. The release enhances some of the browser's features, fixes bugs, and improves overall stability.
Specifically, version 5.1.2 of Safari now makes it possible to view PDFs within web content. It also addresses bugs that caused web pages to flash white, as well as issues related to excessive memory usage and overall stability—we're keeping our fingers crossed that this will stop the browser from occasionally hanging.
Safari 5.1.2 is compatible with Mac OS X 10.7.2 or later, Mac OS X 10.6.8 (with Security Update 2011-006) or later, Windows XP, Windows Vista, and Windows 7. The 40.2 MB download is available via Software Update or from Apple's support download site.