Limbua.com's The Christmas List is a very good choice for managing your holiday shopping list. It's simple and intuitive, with almost all the features a holiday shopping app should have.
Being able to compartmentalize your friends isn't usually a good thing, but it is a good quality to have in an app like this. Christmas List lets you categorize all of the people on your shopping list into groups—family, friends, co-workers, and so on. At the bottom of the main dashboard, a countdown to Christmas tells you how many shopping days you have left.
Once you have everyone slotted into appropriate groups, you can add a new gift for a person. After you enter the name, you can pick from several optional subcategories—price, store, notes, status, and priority. You can stay extra-organized by specifying whether a gift is one the person "maybe" wants, "definitely wants," or "must have."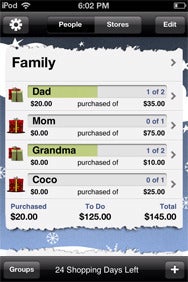 Using Christmas List's store option, you can choose from several dozen popular retailers; alternately, you can add stores not on the list or permanently delete ones you won't use. You can then customize each gift entry even further by choosing an image either from your photo library or by taking one with the iPhone's camera. Within a group, it's easy to toggle between group members simply by scrolling left or right.
Once you have filled in all of the gifts on your list, you can navigate back to the main dashboard to easily view your shopping progress. You can view a breakdown of your progress either by people still needing gifts or by the stores you still need to visit.
Some of Christmas List's best features are the little details that the app just gets right. If you're worried about prying eyes snooping on your shopping, you have the option of protecting your list with a password.
There are also options for personalizing the app. You can choose different holiday-themed backgrounds to change the look of the app, and you can pick an avatar for each person on your list. You can choose from either a preset photo (options include a dinosaur, a penguin or a snowman) or an image from your photo library.
You also have the option of sharing each individual shopping list. You can choose to share either through email or Facebook. The mail option puts your list, along with all of the relevant subcategories, in a nice chart in the body of a message. If you opt for the Facebook option, your list appears on your Facebook profile. (Better hope that whomever the list is for isn't among your Facebook friends.)
There are really only two things missing from this app—the option to sync your iPhone contacts and the ability to set a total budget. Being able to sync your contacts straight to your list would make it much easier to get started, especially if you have a lot of people to shop for. Some people may not find the lack of a budget option a big omission, but I like to set one in an attempt to keep my spending under control. The Christmas List is not entirely without a way to track your money, though, as you can see running totals of the cost of your gifts in each group of people on your list, which is an adequate work-around to the budget feature.
Despite these minor complaints, The Christmas List is a solid app that makes planning your Christmas shopping a whole lot easier.
[Karissa Bell is a Macworld editorial intern.]