iPresents by Simply-Presented is a simple and easy-to-use app that will help you stay organized throughout every step of gift-giving this holiday season.
Perhaps the most appealing aspect of iPresents is how user friendly it is. Although I found everything to be fairly intuitive, the app helpfully offers hints throughout the process of managing your gift list. (You can turn off hints in the app's settings if you don't need them.)
Launch iPresents, and you'll go to the app's main dashboard where you see a countdown to Christmas and a detailed breakdown of your entire shopping list. You can then navigate to other sections of the app, such as People and Presents.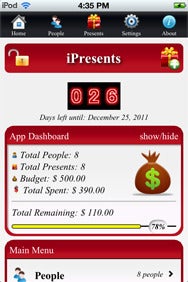 Unlike other gift managers that don't really let you organize the people on your list, iPresents features helpful preset categories for grouping recipients together. Default categories include family, friends, school, work, church, and other; you can also add or remove categories.
Unfortunately, iPresents doesn't sync with the built-in Contacts app on your iOS device. But iPresents does let you add several people to a group at once simply by separating their names with commas—a real time-saver if you have a long list.
iPresents bills itself as a present tracker, and it really delivers on that front. You can track your presents at every step of the process in the Presents tab. When you add a present to your list, you can specify where you are in the process with "progress pickers" that range from coming up with gift ideas to wrapping up the final item. The app also gives you the option of adding the same present to multiple people on your list.
I think the stand-out feature in iPresents is the app's ability to look up presents online. You can search for presents on the websites of seven different popular retailers or via Google. It's a great way to easily compare prices without having to leave the app.
iPresents isn't a visually spectacular app, though you have the option of changing the color scheme or the look of the countdown clock if you want. What iPresents lacks visually, though, it more than makes up for in usability.
[Karissa Bell is a Macworld editorial intern.]