The sleek No More Socks by Food for Benjamin comes through where so many other gift list managers in the App Store fall short. It seamlessly integrates online shopping and sharing into the gift planning process.
Most of the features you'll find in No More Socks exist in other apps. But No More Socks simply does them all better than any other app I've tested. And, unlike many other holiday-themed apps, this iPhone offering is designed for year-round use, handling all your gift giving occasions.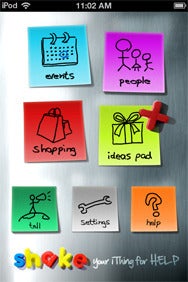 While it's more complex than many apps of this ilk, No More Socks also happens to be extremely user-friendly. From the home screen, you can navigate to the four main sections of the app: Events, People, Shopping, and Ideas Pad.
Choosing Events will, predictably, take you to a calendar where you can view both upcoming and past events. (You can toggle between the two.) While not a Christmas-specific app, that's the only default event in No More Socks's calendar. You can easily add new events to your calendar and set budgets for each event. Additionally, you have the option of specifying whether the event is a group event (for holidays like Christmas) or a personal event unique to one individual (such as birthdays or anniversaries).
In the People section, you can add the people you will be shopping for either manually or by choosing from your iPhone's contact list. Each entry is highly customizable; you can add a birthday (and choose to set reminders), view past gifts and ideas, and even add personal traits where you can specify likes and dislikes, clothing sizes, and so forth.
Once you have added a gift idea, you have the standard options of specifying a budget, adding notes, and indicating which event the gift is for and whether or not you have bought the item. But where No More Socks stands out is in the way shopping gets integrated into the app. You have the additional option of adding online or offline retailers to each gift. There are several dozen of each to choose from; you can also add your own.
If you choose an online retailer, you can then look up the item on that company's website and bookmark it. And you can choose as many retailers as you want. In this way, you can easily compare prices to make sure you get the best deal. You can even give priority to your first choice. And if you would rather not buy the gift from your mobile device, you can export the list to your email and easily follow the links to buy from your laptop or desktop.
The Shopping section helps you easily manage your gift-buying. You can toggle between all shopping, online shopping, offline shopping or past purchases. A scrollbar at the top lets you toggle your shopping list by weeks so you can view gifts for the year or for one event only.
One of the best features of No More Socks is the app's Ideas Pad. Everyone has that one person on their list who seems almost impossible to shop for. While similar apps may offer a section dedicated to brainstorming ideas, they tend to ignore the fact that one of the most difficult parts of holiday shopping can be finding the right gift. This is where No More Socks takes brainstorming a step further. In addition to adding your own ideas, you have the option to "browse shared ideas," essentially allowing you to crowd-source suggestions for your gift list through a forum. This option not only adds a social and interactive component to the app, but it turns out that by leveraging the community of other users, you may just be able to come up with some creative ideas. While some of the ideas were predictable (iPad 2, Kindle Fire, and the like), many of the suggestions were extremely creative and things I never would have thought of on my own.
Other useful features include the ability to set a passcode to secure your shopping and to enable push notifications to remind you of upcoming events like birthdays.
Despite the almost overwhelming number of available features, No More Socks is designed with usability in mind. If you ever get stuck, you simply shake your device and a help screen pops up with detailed explanations of each section of the app and links to helpful videos.
[Karissa Bell is a Macworld editorial intern.]