Santa's Bag by Clay Pot Software is a simple and easy-to-use app when it comes to managing the basics of your holiday shopping. That said, the iPhone app is probably better suited to those who prefer to do the bulk of their shopping offline.
Launch the app, and you're greeted with the obligatory picture of Santa and a countdown to Christmas. Below, you get a summary of your overall budget and a progress report on your shopping. Tabs on the bottom of the screen help you navigate between the Recipients, Gifts, and Stores sections of the app.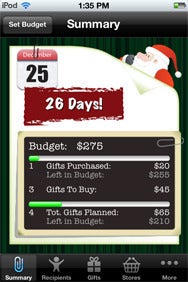 You use Recipients to manage the people on your list. You can add people manually or choose to sync with the iPhone's Contacts app. From there, you assign people to groups—family and friends are the default categories, but you can add as many as you like. You can sort your list by gift status, name. or by group. You can also set a total budget for each person on your list.
You can add gifts to your list in a couple different ways. Select an individual's name in Recipients, and you can then add details like the price, status of the gift, and which store you plan to buy the gift at. You can also add gifts in the Gifts section, either to individuals or "unassigned recipients," which could double as a sort of ideas section.
When it comes to the actual shopping, you can use the Stores section to view which stores you need to visit and which gifts to buy at each store. It's here where the app came up a little short for me. I would love to have the ability look up the gifts online from within the app. Alas, there is no option to do so, but if you don't plan on doing much of the shopping online, chances are, you won't miss the feature.
Santa's Bag offers some email sharing opitons, though they proved a little difficult for me to find in my initial testing. But tap on the triangle button in the app's navigation bar and you can email your lists, even ones that have been sorted and filtered. You also have the ability to backup and restore your lists using your existing Dropbox account.
Though not the most flexible app out there, Santa's Bag is a solid offering that will keep your holiday shopping organized and on budget.
[Karissa Bell is a Macworld editorial intern.]
This article was updated on December 6 to correctly describe the email sharing options in Santa's Bag. This correction does not alter our overall rating of the product.