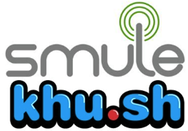 Smule, the company behind music-themed iOS apps like Ocarina, Leaf Trombone, Magic Piano, I Am T-Pain, Glee, and MadPad, announced Thursday that it will acquire Khush. Khush is another music-focused iOS developer, with a trio of auto-tuning apps to its credit: Songify, LaDiDa, and Talkapella. Terms of the cash and stock acquisition deal aren't being disclosed.
Combined, the companies reach 27 million users, with 5 million monthly active users, and 350 million songs created across the companies' apps. "These numbers defy skeptics who don't believe that people want to be creative," Smule CEO and co-founder Jeffrey Smith told Macworld. Smith said that the companies share the same goal—namely, to "lower the barrier to music creation" and "democratize the creation and distribution of music."
Smith indicated that Khush would, in the near term, continue to operate semi-autonomously—but he's confident that both companies can help each other improve each other's apps quickly: "We think Khush's autotune engine is better than [Smule's], quite frankly," so there's a plan in place to migrate the Khush algorithm into Smule's apps. "And we're dying to get access to Songify's melody engine," Smith said.
Khush's apps will benefit from Smule's sonic network, which lets users of all of Smule's apps share their musical creations in the cloud, browse other users' songs, and even contribute to those songs. That network, Smith said, "is a strategic social point for the combined company," and by joining forces, "we'll be able to populate that network even more rapidly."
Parag Chordia, Khush's co-founder and CTO, told Macworld that he shares Smith's belief that "technology took music out of the hands of people in some sense, and we think technology is also going to bring music back into the hands of people now." He added: "A mobile device is very personal… When we make apps that create that sense of a musical high, if we can do that—sex, drugs, and rock and roll: It sells itself."
To date, Khush turns a profit, while Smule hasn't yet crossed the profitability threshold on its own. Said Smith: "We've taken outside capital, and used a lot of it to build out our backend network, which both companies will now leverage." He predicted the combined companies would see $20 million in sales for 2012.
Both companies have seen increasing success from the "freemium" model of offering apps for free, with in-app upgrades offering expanded functionality. Prerna Gupta, Khush's co-founder and CEO explained to Macworld: "You reach more people more quickly when you're free, so we're moving to that model more and more. But it's nice to have some paid apps in the portfolio, too."
In a written statement, Gupta added: "The success of apps like Songify and Magic Piano has brought to bear our belief that all humans are inherently creative, and we are thrilled to be uniting with Smule in our common quest for a musical utopia."