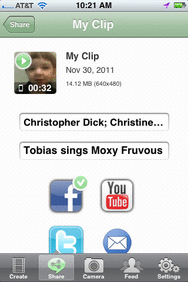 Apple's iMovie app for iOS devices has new competition from HighlightCam's new offering, which lets users edit video and share it to social networks.
The new HighlightCam Social app was updated Tuesday in the App Store. It's similar to iMovie, but with some differences: Both apps allow users to share video—stuff shot and saved on your iPhone, iPad, or iPod touch—to Facebook and YouTube, but HighlightCam Social also allows for sharing via Twitter. (iMovie, however, can also share to Vimeo and CNN iReport.) HighlightCam also has its own proprietary social network for sharing your videos—somewhat like Path—or watching your friends' videos; the latter can also be captured and incorporated in your new creations.
The app offers a number of different editing options: Clips can be shot within the app, or pulled from your camera's library, then trimmed and joined together—complete with transitions and title slides—to make a "mini-movie." HighlightCam also offers a database of 40,000 free songs to create a soundtrack, though you can also use music from your iTunes library. Users can also direct the app to focus on either people, voices, or action within a clip—the better to get either the proper visual or audio emphasis. But users may decide they'd rather share raw videos to Facebook or Twitter instead of editing on their iPhone; the former process is nearly instantaneous if you're on a Wi-Fi network, while it took my iPhone more than an hour to process a one-minute edited video.
HighlightCam Social is free, but it does come with in-app credit purchases, starting at $3 for 10 credits. The purpose of those purchases isn't immediately clear—there was no explanation within the app, nor on HighlightCam's website. Using the app provides a clue: No credits were deducted when I shared a video to Facebook, but one credit was used when I created and edited a new movie.
The app is compatible with the iPhone 3GS or later, the fourth-generation iPod touch, and all varieties of iPad. The device must run iOS 4.3 or later.