Reader Curt Forsyth is yet another person flummoxed by iTunes Match. He writes:
I signed up for iTunes Match and uploaded my music library. In that library I have some tracks I bought in the early days that are protected AAC files. I have a home music system that can't play these tracks. But I heard that you can redownload these files so that they're no longer protected. Yet when I try to do that from iTunes, there's no download button. And when I attempt to download them from the iTunes Store using the Purchased link, the Download button is grayed out. How can I get these tracks?
iTunes Match believes that these tracks are already in your local iTunes library, which is why it's not offering them to you again—even in unprotected form. So the trick is to alter your library in such a way that iTunes Match no longer sees these tracks.
Our own Jason Snell provides a good way to go about this in his How to Upgrade Tracks to iTunes Match, Fast. It's worth a read particularly if you want to upgrade a lot of tracks at one go.
For a specific protected track or two it goes like this: Select the tracks you want to redownload, hold down the Option key, and press the Mac's Delete key. Confirm that you want to remove the track from your iTunes library, but not from iCloud. Do this with iTunes Match switched on and the Download icon will now appear next to those now-deleted track, ready for you to grab in an unprotected form (though still tagged with your name in the tracks' metadata). If you were to look for these tracks in the iTunes Store you would see that they can now be downloaded.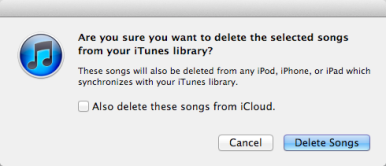 Another option is to create a new, empty iTunes library and then download any or all of your iTunes Match tracks. To do so, quit iTunes and then hold down the Option key and relaunch it. In the dialog box that appears choose to create a new library. When iTunes launches select Store -> Turn on iTunes Match, and then click the Add This Computer button in the resulting iTunes Match pane. In a couple of minutes your iTunes Match music collection will appear. All of the tracks in it should be available for download.
Finally, you can download your tracks to an iOS device and then, using a tool such as Ecamm Network's $20 PhoneView, copy the tracks from your iPad, iPod touch, or iPhone to your Mac.