This week many people will suffer the indignities and inconvenience of long-distance travel to personally deliver gifts to their distant loved ones. As appreciated as your presence and presents are sure to be, I'd suggest sharing one additional gift—your technical knowledge. Odds are you visit this site and are reading these words because of your enthusiasm for Apple's work. Those odds are just as good that you've picked up many helpful tidbits along the way—bits of information that your friends and family could benefit from. As this is the season of giving, might I suggest that you consider giving of yourself in the following ways?
Check for backup
Once you've ensured that all the smoke alarms in the house can perform their assigned duty, check that the Macs in the home are likewise ready to save the family bacon. If your family members respond with "Huh?" when you pose the "How are you backing up your data?" question, start planning a backup strategy for them. In the short term, a Dropbox account could be enough for the most important files. In the long term, come up with a solution that backs up all of the computer's data—Time Machine and an external hard drive, for instance.
If this is a chore you carried out last year, test the existing back up. Having and implementing a plan is all well and good, but if you can't actually restore data from the backup, it's useless.
Prepare for emergency calls
As the go-to person for technical issues, you've undoubtedly experienced panicked phone calls from your friends and relatives. Worse, you've had to restrain yourself from leaping through the phone lines to throttle your father when he insists that his Mac has no Restart command. You'll save everyone a stockingful of aggravation by creating an AIM account for your loved one, adding that account to iChat, and enabling the options necessary for you to share that person's screen with you remotely. That way, the panicked phone call can be as long as "No problem, get on iChat and I'll take care of it."
If you have a laptop with you, practice screen sharing with them so that they know how to respond to a screen sharing request. When doing so, be sure that they understand your command to "Take your hand off the mouse. It's dangerous to touch it when I'm controlling your computer." (Of course we know that the only danger is that you'll scream at them when they fling the cursor from one side of the screen to the other when trying to explain the problem to you.)
Get 'em on FaceTime
Presumably you love these people and would like to see more of them. FaceTime is one way to do that. Configure a FaceTime account for them on any devices that supports it and show them how to initiate and receive a call. FaceTime is helpful not only for exchanging family gossip, but also as a troubleshooting tool. For example, if your cousin has an unresponsive hunk of hardware, you can set up a FaceTime call with him on his iPod touch and direct him to prove (via video evidence) that everything's plugged in as it should be.
Clean up their cruft
Most people understand what the Mac's Trash is for, but far too many fail to understand that it's something that should be emptied every so often. If you find a full Trash, check with the target of your largesse that they really don't want what's in it and then send it into the ether with the Finder's Empty Trash command. Likewise, take a gander at iPhoto's Trash, which must be emptied with a separate command (Control-click or Right-click on iPhoto's Trash icon and choose Empty Trash from the menu that appears).

If your relationship is such that your friend or relative doesn't mind you peeking at the contents of their email client's inbox, see how their spam filter is doing by checking the contents of any Spam or Junk folders. Similarly, look through their list of "good" messages and ensure that the spam filter is actually doing its job.
If they've cluttered up their desktop with scads of loose files, explain why this is a bad idea. (The Finder treats any folder or file on the Desktop as a window. That's no problem if you don't have many items on the Desktop, but clutter it with files and folders and the Finder will slow significantly.) Help them devise an organizational strategy that will keep the Desktop tidy, while also working for them. Ask, don't tell. Impressively complicated though your scheme of choice may be, if they don't get or appreciate it, they won't use it.
Update their stuff
Many Mac users confronted with a Software Update window click Cancel, figuring that since their computer is working just fine the way it is, there's no need to risk messing it up with an update that does heaven-knows-what. You know better. Step in and install the appropriate OS, security, and application updates. Be sure to test the Mac before you bid your loved ones farewell to ensure that any updated applications work as they should. If they have any iOS devices, turn to the iTunes Store, update their apps, and sync their devices.
Speaking of iOS devices…
Organize their iOS devices
Apple's iPhone, iPod touch, and iPad are popular enough that many of your relatives and friends have at least one of them. If so, there's every chance that apps are scattered across multiple screens organized only by when they were downloaded or synced to the device.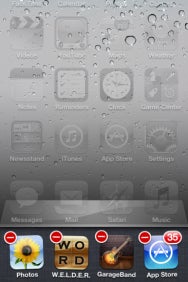 Sit down with your friend or relative and ask them to name their five most-often-used third-party apps. Move those apps as close to the first screen as possible. If this person is comfortable with folders, consider creating a Greatest Hits folder of these apps and placing it in the device's dock or first home screen. If they're really comfortable with folders, organize their apps into folders (but don't go crazy with it as too many folders can be as confusing as too many apps).
While you're sitting down with your holiday pal, show them how to use the Search field if they're not familiar with it, how to create folders, how to use the multi-tasking dock, how to move items, and how to quit a frozen app. (To quit a misbehaving app, double-click on the Home button to bring up the multitask bar, tap-hold on the problem app until it wiggles. Tap the minus badge that appears in the upper-left corner of its icon. Next time you launch the app, it will launch from scratch.)
You don't have the option to screen share with this device so a few tips now may save you some frustrating calls in the future.
Help them let go of outdated gear
Finally, while understanding that there's no shame in using old gear, if you notice that your friends and family members are routinely frustrated by the technology that surrounds them—whether it's an ancient computer, an operating system that doesn't support today's software, a printer that produces streaky images, or a deadly slow Internet connection—gently encourage them to upgrade if it's within their (or your) budget. Very few of us absolutely require the latest and greatest, but there eventually comes a point when old gear is more hindrance than help. If a lack of confidence in setting up such gear is the only thing holding your loved ones back, step in and offer to make the season bright with your expert help.