Less than two years after they were introduced, iPads are helping sell cars, fly airplanes, and make medical diagnoses—but such uses may just be scratching the surface. Steve Jobs may have been famously skeptical about enterprise applications of Apple's products, but a new survey from the Enterprise Device Alliance shows that Apple devices are poised to keep making big inroads in the business market, even if IT managers remain somewhat dubious.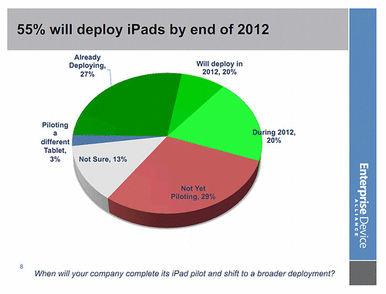 The association surveyed 277 IT professionals, representing organizations with up to 1.7 million tech users. Just 6.7 percent of employees in those organizations are currently using Macs, according to that survey—but that number is expected to grow to 9.6 percent by the end of 2012. Apple's mobile devices are expected to make even bigger gains, with iPhone use growing from 14.2 to 20.2 percent of business users in 2012, and iPad use growing from 4.6 to 9.8 percent of those users during the coming year.
Of course, the EDA has reason for rooting on such developments: It's a non-profit industry consortium of sofware companies that assist in integrating Apple products into Windows-managed business IT environments. Participating companies include GroupLogic, Web Help Desk, Absolute Software, and Centrify.
But the numbers reflect other studies showing growing Apple acceptance in the workplace.
More than 90 percent of the businesses surveyed are already using tablets, in fact—mostly in pilot programs—and 75 percent of those businesses are using iPads. That latter number isn't such a surprise, given how the iPad has dominated the tablet market overall.
What accounts for this growing popularity of Apple products? Simple: Executives love them, and want to bring them to the office. EDA's survey suggested that executive use of the iPad was the number one reason that businesses are moving to support the tablets. Reason number two: The availability of useful apps.
IT managers remain skeptical of iPads, however. Almost 60 percent of the respondents indicated concerns about business security being compromised because of lost or stolen devices—though that shouldn't be as much of a concern, given the ability to remotely wipe information from a lost iPad. Nearly a third of respondents said tablet users are using consumer-grade apps on their tablet despite data-security concerns.
"Tablets have engendered enormous curiosity but not full acceptance," the association said in its report. "Security issues are the major impediment to broader acceptance and tighter integration of tablets."
iPhone 4S family
Price When Reviewed:
$599