Note: Inpaint is on sale for just $1 through the end of this week.
I'm all for preserving the authenticity and integrity of original photos, but the truth is that sometimes we amateur photographers need a little help capture the perfect picture—all too often, that awesome photo of the kids is spoiled by cousin Bob's head. Or maybe a stray piece of litter is distracting from the beauty of your nature shot, or you forgot to turn off your camera's time/date stamp, so that stamp is now emblazoned across every one of your vacation photos.
Those skilled in Photoshop can usually work their magic to get exactly the photo they wanted. But for the rest of us, Inpaint (Mac App Store link) is a clever app that makes it dead-simple to remove unwanted objects from photos. It's also useful for removing time/date stamps, watermarks, stray dust specks, and scratches, and even for touching up facial blemishes.
To use Inpaint, first you drag a photo onto the Inpaint icon; or choose File > Open, or click the Open button in the toolbar, and then choose an image. (Oddly, the Inpaint window always opens at the same small size, regardless of the size of the image; I needed to resize the window every time I opened a new image.) Then you use the mouse pointer as a red marker to color in the object(s) to be removed. You can make the marker tip larger or smaller to make it easier to color large objects or for detail work, respectively. You can also zoom in on the image itself if you want to, say, remove blemishes from a person's face.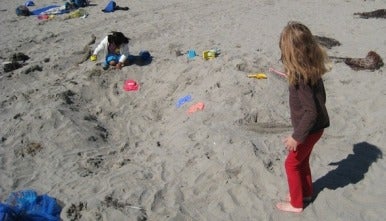 Click the Inpaint button in the toolbar, and the program works its magic, removing the marked areas and, even more impressive, automatically surveying the surrounding areas of the photo to generate realistic-looking filler. This works surprisingly well—shockingly well at times—although it won't match a professional retouching by a Photoshop master: If you zoom in on a higher-resolution image, a sharp eye may spot some slightly blurry areas where Inpaint modified the photo. Inpaint's effectiveness also depends on the size and detail of the object(s) you're removing and the intricacies and uniformity of the surrounding area.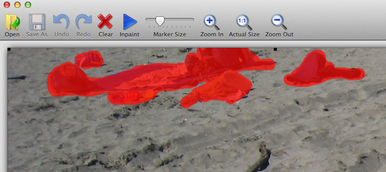 Still, for a $4 program, Inpaint's results are very good, and if the result isn't perfect—sometimes you'll see a stray blotch, or a darker or lighter area, where an object was removed—you can mark that area and reprocess the photo to get a better result.
As you mark an object for removal, a rectangle encompasses the marked portion(s) of the photo, along with some of the surrounding unmarked area. Inpaint lacks documentation, but based on my testing, it appears that this rectangle designates which parts of the photo Inpaint uses to create filler to replace the removed object(s). Before processing a photo, you can manually resize this rectangle to increase or reduce the size of the sample area.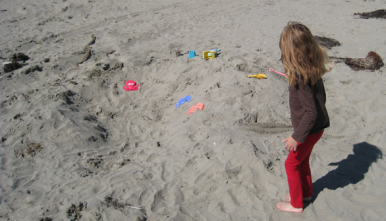 This approach to replacing objects means that if you've got multiple objects to remove from a photo, you'll get better results by marking one object and processing the photo, then marking the next object and processing again, and so on. This ensures that each object's filler matches the surrounding area as well as possible.
Unfortunately, Inpaint doesn't offer a batch mode, which would be useful, for example, if you've got a bunch of photos that have a time/date stamp—in the exact same location, of course—that you want to remove. The company does offer a separate product, BatchInpaint, that offers less functionality but can batch-process images, but it would be great if Inpaint itself offered this feature.
Inpaint is a one-trick pony, but it's very good at that trick, especially considering the $4 price tag. It's a nifty tool for Average Joes and Janes who want to clean up their snapshots.
Note that the Inpaint website lists Inpaint as a $20 product that you download from the site. According to the developer, that version (4.0) offers a few more features than the one reviewed here (3.0.2), which is offered only through the Mac App Store—and for a significantly lower price.
Want to stay up to date with the latest Gems? Sign up for the Mac Gems newsletter for a weekly email summary of Gems reviews sent directly to your Inbox. You can also follow Mac Gems on Twitter.