Want to make professional-looking videos? Escape to the 1970s? Play fun board games? This week's roundup of accessories for your iOS devices has a little something for everybody.

Griffin Technology: The $80 GuitarConnect Pro is exactly what it sounds like: a jack that connects your guitar to your iPad or iPhone for music-making purposes. The GuitarConnect Pro offers a noise-free, all-digital connection from your instrument to the GarageBand application on your tablet; the rig includes a dedicated gain control for instrument input.
Identity Games International: There are plenty of board games available in app form for your iPhone and iPad, but the $80 GameChanger takes a different approach by integrating an iPad into the board itself. Download the free GameChanger iOS app, slide your tablet into the board, place one of the four game "skins" on top, and you're ready to go—the board and the iPad interact with each other for seamless game play. While only four games are currently available, the company says more titles will be available in 2012.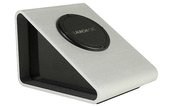 LaunchPort: LaunchPort's $199 BaseStation and $199 WallStation each offers a cable-free way to charge your iPad. Each station sports neodymium magnets that hold your iPad in place while the accessory uses inductive charging to juice up the tablet's battery—just put your iPad on a Station, and grab it and go when you need it. As the names imply, the WallStation mounts on a wall, while the BaseStation sits on a flat surface. Note that for your iPad to take advantage of this wireless-charging magic—as well as the magnets that keep it safely mounted—you must also purchase one of LaunchPort's $149 AP.2 PowerShuttle iPad cases (available in black or white).
M.I.C. Store: Aimed at old-school Apple fans, the $86 iStation is a docking station that gives your iPad the appearance of an Apple I or Apple II computer. The iStation includes stereo speakers and a Bluetooth keyboard; the latter is removable if you simply want to use the base for watching iPad video. Available in faux-woodgrain or glossy-white-pearl finish, the iStation will ship on on Dececember 26.
Mobislyder: Serious about your iPhone-based movie making? The $135 Mobislyder will help you achieve smooth tracking shots for your YouTube masterpieces. The device lets you mount your iPhone atop a skateboard-style dolly to create smooth moving shots while making videos. The company is currently taking pre-orders.
OnTip: There's a growing market for cold-weather gloves that let you still use your iOS device's Multi-Touch features. OnTip takes a different approach than most of the competition by integrating a stylus nib on the the tip of each glove's index finger. The company suggests this solution lets users type more precisely on an iOS device's Multi-Touch screen. The OnTip line includes four models, ranging in price from $30 for the basic OnTip Fleece to $70 for the OnTip 3-in-1.
Scosche: Ever try to jog on a treadmill and read from your iPad at the same time? It's not always easy, usually because your treadmill has no place to stick your iPad. Scosche's $50 FitRail exercise mount attempts to solve the issue by providing a mount to hold your tablet in place while you cruise along on your treadmill, exercise bike, or elliptical machine. The FitRail also makes a useful table or countertop stand when you're no longer moving. It also folds up and fits into a duffle bag for toting to the gym.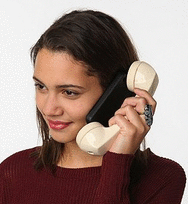 Urban Outfitters: This company is the temple of hipster-retro fashion, keeping millions of bearded twentysomethings outfitted in ironic T-shirts and cocktail glasses. So maybe it's no surprise that Urban Outfitters' contribution to the iOS-accessory market is an iPhone case. The $45 Mofone Phone Case looks exactly like the awful beige phone receiver from your parents' 1970s landline phone. (Though it's also available in blue, red, or—of course—lime green.) The case is surely meant for around-the-house use, as we can't imagine that it would be easy to slip into your pocket on the way out the door. Then again, maybe the next step in retro-fitting your iPhone is to actually tether it to a base station in your home, much like the old land lines. That can't possibly happen, can it?
USBFever: If you're looking for a USB cable that can multitask with the best of them, the $10 USB to Dock Connector with Micro USB/Mini USB/Card Reader might be what you're looking for. As the name suggests, the cable has a standard USB plug on one end and four connections on the other: a dock-connector plug for charging and syncing your iOS devices (syncing only for the iPad); mini USB; micro USB; and an M2/SD card reader. USBFever says the accessory should reduce the number of cables you need to connect your computer to your various mobile devices.
Zomm: Losing your iPhone is no fun. Zomm tries to prevent it with the company's $80 Wireless Leash Plus. Used in conjunction with the myZomm iOS app, the keychain attachment connects to your iOS device via Bluetooth. If you (and the keychain) wander too far from your iPhone, iPad, or iPod touch, the keychain vibrates, flashes, and sounds an alarm. The app also lets you geo-tag other objects, such as your car in a parking lot, so you can find your way back later. It can also auto-dial 911 in an emergency. The Wireless Leash Plus is available at the online Apple Store.
iPhone 4S family
Price When Reviewed:
$599