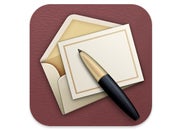 Sending your holiday greeting cards and thank-you notes may just have become a smidgen easier. Apple on Tuesday released Cards 1.0.1, a small update to the photo card creation iPhone app that the company unveiled back in October.
Version 1.0.1 of the app includes improvements spanning three areas: text entry, postal address verification, and the checkout process. It's that first improvement that's the most significant one: In the 1.0 version of Cards, text editing could become cumbersome, since the app would sometimes struggle to fit the complete text entry box on the screen. With the latest update, however, that problem is nothing but a bitter memory.
Regarding the address verification improvements: Cards attempts to verify your recipient's address both to ensure that you tap in the correct address, and to make sure that you receive a push notification when your card is out for delivery. In my testing with version 1.0.1, however, my home address in New Jersey and my parents' address in Arizona both triggered verification warnings—though Macworld's San Francisco address seemed to pass muster.
The improvements to the checkout process are all visual; the interface for confirming your card purchase is now a bit simpler to navigate.
Cards is free and requires a iOS 5 or later. Sending cards in the U.S. costs $3, international cards cost $5; both prices include the cost of postage.