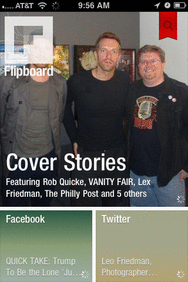 Flipboard is now available for your iPhone. The much-lauded "social media magazine" for the iPad relaunched early Wednesday as a universal app that can also be used on the iPhone and iPod touch. It looks and feels very much like its iPad-only predecessor, but with a few tweaks.
Where the iPad version lets users swipe laterally through pages—thus imbuing it with that magazine feel—Flipboard on iPhone adjusts to the device's smaller screen real estate by requiring users to thumb vertically through stories, and only in portrait mode. Just two headlines per page are available, but users can flip to the next page so quickly that the limitation is barely noticeable.
There are some changes to the overall Flipboard app that come into play here as well. Flipboard had recently introduced its user accounts and you'll want to sign up if you so that you can sync and get the same content on both your iPhone and iPad. And the iPhone version of Flipboard now includes a feature called Cover Stories—essentially, an aggregation of the top headlines and photos from your feeds. Developers say this is a "smart" feature that users can shape to reflect their tastes.
Flipboard is free, and runs on the iPhone 3GS or later, third-generation iPod touch or later, and all iPads. Devices must run iOS 4.0 or later.