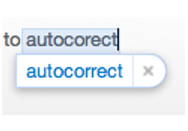 Sometimes, one person's hint is another person's incredibly obvious feature. In this case, I was the guy who needed a hint that—once it was pointed out to me—I felt silly for not thinking of on my own.
I was getting frustrated by Lion's built-in, iOS-style autocorrection. I normally like the feature, which corrects misspellings as you type, but it was making life difficult for me when I searched my email for messages from Macworld senior editors Chris Breen and Scholle Sawyer McFarland. When searching for messages from Chris, I'd type "from:breen" into Gmail; for Scholle, I'd type "from:scholle" instead. Lion unhelpfully wanted to replace their names with "green" and "school," respectively.
I griped on Twitter, and Flying Meat Software's Gus Mueller shared the easy fix. If Lion's autocorrecting a word that you'd prefer it simply leave alone, let it make the correction, then fix the word so that it's spelled the way you'd prefer again. Next, Control-click (or right-click) on the word in question, and choose Learn Spelling from the contextual menu that appears. From now on, Lion won't autocorrect that word any longer.
Now, I already knew about the Learn Spelling option, but in my mind, I used it to fix words that my Mac mistakenly gave the "red squiggly underline" treatment. But indeed, as Gus pointed out, Learn Spelling fixes rogue autocorrections, too.
If you'd prefer that Lion never autocorrect the words you type, remember you can go to System Preferences, click on the Language & Text pane, navigate to the Text tab, and uncheck Correct Spelling As You Type.