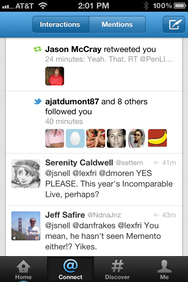 Twitter, it is a-changing again. The microblogging service unveiled a new version of its online interface Thursday, with a focus on simplifying the design and making the service easier to use. The new look will roll out on the website in the next few weeks, but it's available now at Twitter's mobile website, along with a just-updated Twitter app for iPhone. (The Android app has been updated, too.) The company says it's "working on updates for other apps, such as Twitter for iPad," but makes no mention of the Twitter client for Mac.
The name for the new design seems to be Let's Fly; apparently #newnewTwitter wasn't even considered. Twitter says that a key feature of the new design is that it will employ the same four tabs across all official Twitter clients: Home, Connect, Discover, and Me.
The Home tab is where your Twitter timeline resides. Connect contains two tabs: Interactions and Mentions. Mentions are a subset of Interactions, which also include retweets, new followers, and favorites. The Discover tab combines Twitter Stories, Trends, and recommendations of other users to follow. And the Me tab contains information about you, along with buttons to access your Direct Messages (DMs), Lists, Drafts, other accounts, and Saved Searches. Advanced Twitter for iPhone users seeking quicker access to Direct Messages or other accounts should learn two unusual shortcuts: Swipe up on the Me tab to go directly to your DMs, and swipe left on that tab to switch accounts.
But Twitter giveth and Twitter taketh away. Gone from the iPhone app is the ability to mark all direct messages as read and integration with Favstar. Instapaper integration is still present, but doesn't work as well: you must now first view a webpage and then tap the Go To button. Previously, you could save articles for later reading without viewing them first.
Of course, this is just the first iteration of the new version of Twitter, and some features may work their way back into the app. Twitter promises that Thursday's announcement "is just the beginning," and that the company will work work quickly "to help users connect with whatever is meaningful to them." With the exception, one supposes, of old Twitter.