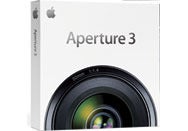 Apple has released an update to Aperture 3, its photo management software package. Aperture version 3.2.2, available via Software Update or the Apple website, solves a problem that could prevent auto-imported Photo Stream images from being displayed in the library after your Photo Stream hits 1,000 images.
If your Photo Stream exceeds 1,000 images, older images auto-imported from Photo Stream may no longer appear in Aperture 3.2.1, even if you have activated the preference to auto-import images from Photo Stream.
Here are the steps Apple provides to recover the missing images.
First, update to Aperture 3.2.2. After you complete the update, open Aperture and hold down the Command and Option keys until the Library First-Aid window appears. Then choose the Repair Database option and click the Repair button. After the repair has been completed and Aperture reopens, the missing images will once again be visible.
Apple warns that the suggested steps will recover the master images but not additional versions or edits you may have created.
The update package is 551MB in size.