DigiTech's iPB-10 is a programmable guitar effects pedalboard that uses your iPad or iPad 2 as an interface to select, arrange, edit, and configure 87 guitar effects pedals, 54 amps, and 26 speaker cabinets in innumerable ways.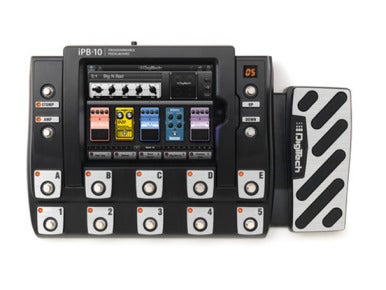 The iPB-10 is not a toy and at $500, it's not priced like one. It is sturdily built and weighs in at a hefty 11.5 pounds. Setting up the iPB-10 is easy, but there are a number of steps. First, you must download the free iPB-Nexus app to your iPad from the App Store. Next, check to see if the correct docking tray for your iPad is installed. The tray for the first generation iPad was in place when I opened my unit, but replacing it was simple. Push in two buttons that release the protective frame, lift it up, and remove two, easy-to-access, Phillips head screws. Swap in the new tray and replace the two screws. Then, plug the power supply to the iPB-10 into a wall outlet, connect the dock connector to the iPad, close the protective frame, and power up the pedalboard.
Using the app
After installing, powering up the iPB-10, and launching the iPB-Nexus app, a message popped up on the iPad's screen saying that I needed to install a firmware update. Updating requires connecting the iPB-10 to your Mac (or to a PC), downloading an updater program from the DigiTech website, and selecting your product. All available updates are then applied. The update took several minutes and I was warned that any custom presets and settings might be erased by the process. Since I hadn't started anything, I wasn't worried, but I could see how this could be a problem if you'd been working with the unit for a while.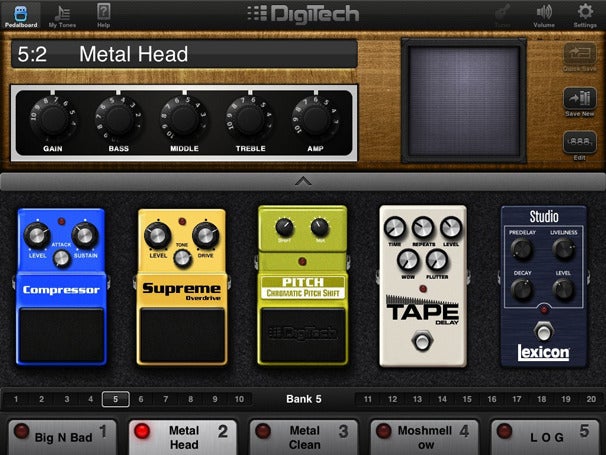 Once updated, the app shows your current setup, an amplifier, speaker cabinet, and five effects pedals. You can actually have up to 10 effects per setup, but only five at a time are visible in performance mode. Tap and hold any of the pedals, the amp, or the speaker on the iPad's screen, and the app presents a large number of elements you can swap out. You can also adjust the volume, tone, and gain settings on the amp by touching the knobs and sliding your finger up or down. Amp models include names like Marshall, Fender, Orange, Hiwatt, Mesa Boogie, and Matchless. A similarly large number of speaker cabinets are also available from popular vendors, and in an impressive number of sizes.
Each of the five pedals in the window has a corresponding lettered (A through E) foot switch that lets you turn each pedal on and off. There are five more numbered foot switches underneath them that let you choose between five different setups. You can save setups using your own custom tones, amp settings, and speaker cabinet.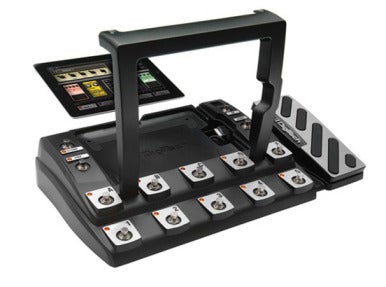 Meet your connections
There are also lots of ways to connect the output of the iPB-10. The back of the device holds a large number of connectors, including the 1/4-inch input you use to connect your guitar. You can listen through headphones using the 1/8-inch connector, or use 1/4-inch cables to connect to an amp, mixer, or computer audio input device. I connected to a PreSonus Firestudio Mobile and was able to record to GarageBand and Logic Pro on my Mac. You can also use the USB ports to connect to your Mac. I also connected the iPB-10 to a PA system and was able to record to the iPad using GarageBand for iOS.
Delays, compressors, distortion pedals, chorus, wahs—they're all here, modeled after brands like MXR, DOD, Boss, Ibanez, and many more. The iPB-10 has dozens and dozens of highly sought after effects ready to rock, including some near and dear to my heart like the Electro-Harmonix Electric Mistress (my first effects pedal, purchased in 8th grade) to the Pro Co Rat (the distortion box I've used onstage for more than 20 years).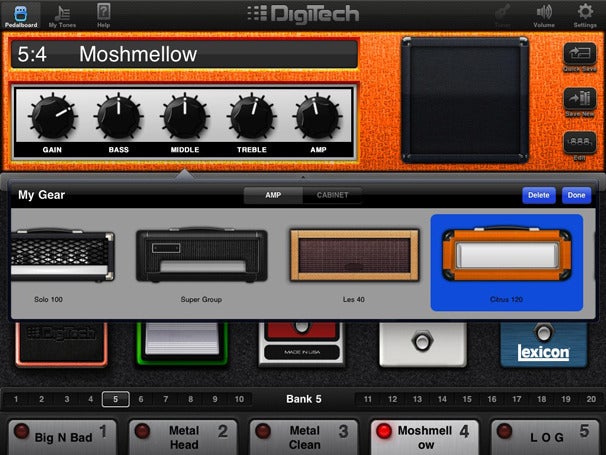 If you think $500 seems expensive, take into account that many of the individual pedals can cost $100 or more, plus they require cabling and power.
I've been having a great time playing with the iPB-10. With five setups to use for anything from jangly pop to face melting metal, I look forward to using it at an actual gig.