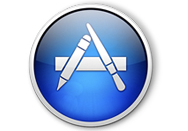 Apple on Monday announced that customers have downloaded apps from the Mac App Store more than 100 million times.
The Mac App Store opened for business just eleven months ago with more than 1000 apps, inspired by the tremendous success of the iOS App Store that preceded it. That first App Store now boasts more than half a million apps; Apple is less specific on the size of the Mac App Store, saying only that it offers "thousands of free and paid apps." The contrast between the stores' volume is clear—the iOS App Store achieved 1.5 billion downloads in its first year.
Based on the 100 million downloads, Apple claims that the Mac App Store has become the world's largest and fasting growing PC software store. In its press release announcing the milestone, Apple includes Mac App Store praise from developers like Autodesk, Pixelmator, and algoriddim.
When Apple reports App Store milestones like this one, note that the number includes only "first-time downloads"; that is, the 100 million Mac App Store downloads don't factor in app updates or re-downloads. Additionally, Macworld can confirm a report from The Loop that the 100 million number doesn't include Lion downloads. (Apple reported one million Lion downloads on its first day of availability, and claimed six million total Lion downloads back in October.)
Late last week, Apple revealed what it considers to be the best Mac App Store apps of 2011.
Buoyed by both the Mac App Store's success and its increasing focus on security, Apple informed developers earlier this year about stricter sandboxing requirements coming to the store in March 2012; some developers remain wary about the coming change. One thing's certain, though: If the Mac App Store continues to boast such impressive download numbers, it will remain an exceedingly important part of the Mac software ecosystem.
Updated at noon E.T. to clarify that the 100 million number doesn't include re-downloads, updates, or Lion downloads.