More than 4 million people already own an iPhone 4S—for the holidays, why not buy them the book that helps them get the most out of their device? Macworld's iPhone 4S Superguide (the 35th book in our Superguide series) offers in-depth explanations, how-tos, tips, tricks, and troubleshooting for any iPhone-obsessed user in your life.
Currently, we're offering our iPhone 4S Superguide exclusively online, as an iBook or Kindle book, with three more gift-friendly formats to arrive before the end of the year (PDF/ePub bundle, CD, and a printed book).
Inside this book, you'll find a complete rundown of how to use your iPhone to communicate, be productive, and enjoy multimedia. If you're not sure where to start, don't worry, because our full-featured guide offers some nice tips for beginners: Take a tour of the iPhone and learn how to activate it; tweak each one of your device's settings; discover basic gestures for navigating through apps and home screens; and learn about some of our favorite tips and tricks. And don't forget to meet your new personal voice assistant, Siri, and explore iCloud, Apple's sync service.
Once you've gotten everything set up, it's time to download some third-party apps and explore what your iPhone has to offer. Connect with friends and family using the Phone app, iMessage, and FaceTime; get online using 3G or Wi-Fi; secure your connection via a VPN; browse the Web and email coworkers; and navigate the world with the Maps app and GPS.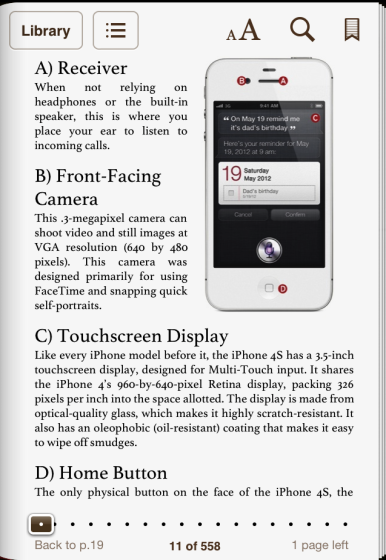 You can further organize your life with included Apple apps like Calendar, Notes, and Reminders, and expand your work productivity with Apple's iWork office suite or other third-party apps. When you've finished a project, learn how to export it to a cloud service like Dropbox or print it out.
More interested in the multimedia side of your iPhone? Check out our chapter on syncing your music, videos, podcasts, TV shows, and apps. You can also play games with friends by using Apple's Game Center, read books with iBooks, and make movie and musical masterpieces with iMovie and GarageBand, respectively.
If you run into trouble, never fear: Our troubleshooting tips will keep your iPhone sailing smooth. And in case you're stumped on how to best outfit your device, we provide suggestions for great iPhone 4S cases, headphones, speakers, and more.
You can read our iPhone 4S Superguide right away on an iOS device by purchasing it from Apple's iBookstore for $9.99. If you prefer reading on a Kindle, or through one of Amazon's desktop or iOS apps, we also have the book available on the Kindle Store for the same price.
Want to take a peek at the book before you purchase anything? You can either check out a free sample from the iBookstore, or download our free iPhone 4S Starter Guide, which contains material from the first chapter of our iPhone 4S Superguide, "Get Started."
If you're looking for other holiday gift ideas, check out our other books in our Superguide series: Total Lion, iPad 2, Digital Photography, Mac Troubleshooting, Switching to the Mac, and our iBookstore-exclusive titles 100 Things Every Mac User Should Know and the iOS 5 Upgrade Guide.
iPhone 4S family
Price When Reviewed:
$599