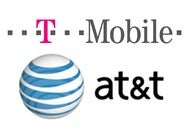 AT&T has asked a judge to put on hold the U.S. Department of Justice's lawsuit to block its merger with T-Mobile USA while the two companies decide whether to move forward with the deal.
AT&T, joined by the DOJ, asked Judge Ellen Segal Huvelle of the U.S. District Court for the District of Columbia to stay the antitrust case until Jan. 18 as the company and T-Mobile USA parent Deutsche Telekom "evaluate all options," AT&T said.
"AT&T is committed to working with Deutsche Telekom to find a solution that is in the best interests of our respective customers, shareholders and employees," AT&T said in a statement. "We are actively considering whether and how to revise our current transaction to achieve the necessary regulatory approvals so that we can deliver the capacity enhancements and improved customer service that can only be derived from combining our two companies' wireless assets."
The request for a stay will make it even more difficult for AT&T to meet a Sept. 20 deadline to complete the $39 billion deal or pay T-Mobile a US$4 billion breakup fee, unless it renegotiates the terms with T-Mobile. AT&T would have to prevail in the DOJ trial, refile an application to take control of T-Mobile's spectrum licenses at the U.S. Federal Communications Commission, and likely face a hearing and prevail at the FCC before the deadline.
The request for a stay came as the DOJ prepared to ask for its own stay or dismissal of the case. During a hearing on Friday, DOJ lawyer Joseph Wayland told Huvelle that the agency believes there's no longer a merger pending after AT&T withdrew its application at the FCC to transfer T-Mobile's spectrum licenses.
A trial in the DOJ's antitrust case had been scheduled to start Feb. 13 before Monday's stay request. If approved by Huvelle, all pretrial and trial procedures would be cancelled and a status conference would be held in court Jan. 18.
AT&T will file on Jan. 12 a report describing the status of the proposed acquisition, including whether it intends to proceed with the transaction, whether it would alter the proposed deal, as well as any plans to seek approval from the FCC, according to court documents.
Staff at the FCC in November announced that they found the deal against the public interest. The finding followed the DOJ's August lawsuit to block the deal.
Grant Gross covers technology and telecom policy in the U.S. government for The IDG News Service. Follow Grant on Twitter at GrantGross. Grant's email address is grant_gross@idg.com.