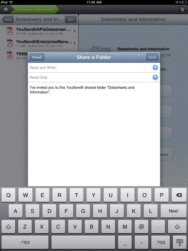 File sharing and transfer service YouSendIt announced Tuesday the launch of its new app for the iPhone and iPad, along with a new Mac app for use with the service.
The new iOS app—which is also available for Android devices—lets mobile users send files, share folders, and sign documents. The app can also save and share email attachments, photos, and video files.
YouSendIt's app includes a core focus on security. The app features a "passcode lock" so that documents can be seen only by the owner of the iOS device; YouSendIt says files are also encrypted "in transit" to ensure that private business papers remain private.
The launch of iCloud might have been seen as a problem for file-sharing services— it works fine with iWork, after all—but cloud-based document-sharing services appear to have redoubled their efforts in recent months, mostly by focusing on the enterprise market. In addition to the YouSendIt launch, Syncplicity in September revamped its iOS app, as did OfficeDrop. And industry leader Dropbox in October announced its Dropbox for Teams subscription service.
In addition to the iOS app, YouSendIt—heretofore a browser-based service—announced the launch of a new Mac-based app to facilitate deskbound use of the service in concert with the mobile offering. That app is still in beta, the company said.
The YouSendIt iOS app is free—though enterprise subscriptions that allow unlimited sharing of files start at $15 per user per month. It is compatible with any device running iOS 4.0 or later.