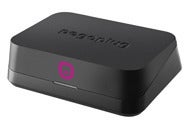 Pogoplug in November unveiled its cloud storage service called Pogoplug Cloud, a new addition to the company's hardware line that features products for setting up your own cloud storage device. On Wednesday, Pogoplug revealed the latest version of their hardware, the Series 4.
The Series 4 is a design change from the original Pogoplug, which had a design that was used for three generations of the product. The Series 4 looks like the Pogoplug Mobile, a compact black box with ports to connect your hard drive and network.
The Series 4 has two USB 3.0 ports, a USB 2.0 port, a SATA/USM port, a SD card slot, and a gigabit ethernet port. Connect a hard drive to one of the ports, use the gigabit ethernet port to connect to your network router, and run the Pogoplug setup software. In a few minutes, you'll have access to your storage over the Internet.
Pogoplug designed the Series 4 to work with the Pogoplug Cloud service, which provides 5GB of storage for free. If you want more storage, you can pay for more, or you can use the storage provided by your Series 4 hardware. Pogoplug also has iOS apps that can be used with the Series 4.
The Series 4 is available now for $99.