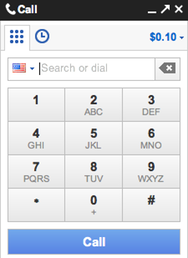 Google on Tuesday announced that it will continue to offer free calls nationwide from within Gmail throughout all of 2012.
The free calling service, which Google introduced in August 2010, lets users use Google Voice from within the Gmail website to make and receive phone calls. Just a year ago, the company announced that it would make calls throughout the United States and Canada free for all of 2011; today's announcement extends that offer for another year.
If you do use the free Google Voice services, you can configure calls to your Google Voice numbers to ring not just your cell or home phones, but also your Gmail phone as well. Placing calls from within Gmail is as simple as clicking on the Call Phone link and typing in the number you'd like to dial.