The Macworld editorial staff picked 13 software winners as the best products of 2011. Take a look at the list, and you'll find a set of tools that'll help you get things done.
AirPlay
AirTunes, Apple's technology for wirelessly streaming iTunes audio from your computer to an AirPort Express, debuted back in 2004. It had a devoted following, but it wasn't until Apple overhauled AirTunes in the fall of 2010, renamed it AirPlay and incorporated it into iTunes 10 and iOS 4.2, that the technology started catching on with a wider audience. That's because instead of being limited to streaming audio from iTunes to an AirPort Express or Apple TV, AirPlay lets you stream from iTunes or any AirPlay-compatible app to any AirPlay-enabled device, which includes a growing number of speaker systems and AV receivers.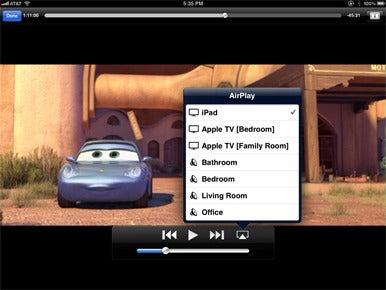 If you've got an Apple TV 2, you can now stream video to your big-screen TV as well, opening up a world of possibilities, including streaming movies from a movie app, photos and videos from iOS's Photos app, and even audio and video from games. And with iOS 5, you can mirror the display of your iPad 2 or iPhone 4S on your TV. It's been a long time coming, but it still feels like the future. We're counting the days until our Macs get the same capabilities.—DAN FRAKES
Alfred
For years, we've had the Big Three launcher utilities: LaunchBar ( ), Butler ( ), and Quicksilver ( ). All three let you launch apps, open files, and perform other Mac tasks with a few quick keystrokes. This year, a fourth launcher came into its own—and some of us like it best of all. Alfred ( ), from Running with Crayons, may not have all the bells and whistles those others do, but it's way easier to use. As soon as you install it, Alfred (which recently came out of beta and version 1.0 is out) can find and launch any app or file on your system (assuming Spotlight has indexed it). And if you add the optional Powerpack ($18), it can do a whole lot more: show you lists of recent documents for specific apps, recall snippets from your clipboard, set global hotkeys for apps and files, and more.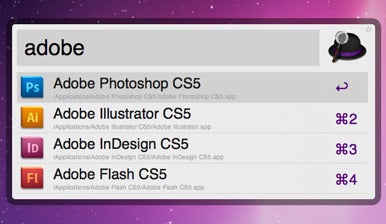 Even better, Alfred is now extensible: Anyone who wants to can create and distribute extensions that run AppleScripts, shell scripts, Automator workflows, and custom file filters. There's an ever-growing library of such extensions on the Alfred website, which do everything from converting currencies and checking your connection speed to posting updates on Twitter and Facebook. Here's hoping that, as it gains in strength, Alfred never loses the basic simplicity that makes it great (free).—DAN MILLER
Fantastical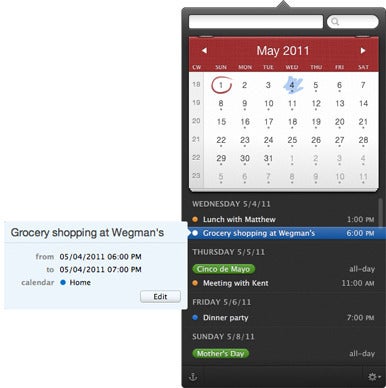 There are a number of Mac utilities that offer a drop-down calendar in the menu bar; or that provide a quick look at your upcoming schedule; or that let you create new calendar events without having to open iCal. But Fantastical ( ) from Flexibits is unique in that it provides all these features and more in a beautifully designed package that for many people can completely replace a full-blown calendar program such as iCal ( ).
A click on its menu-bar date display shows you a real calendar, with all your upcoming events listed below; click an event in the list to view or edit its details. As with iCal in Lion—only Fantastical works better—you can create a new event by simply typing a natural-language description of the event: 'Lunch with Janet Friday at Pasta Palace'. And by working with any calendar you've set up in Apple's iCal, BusyMac's BusyCal ( ), or Microsoft's Entourage or Outlook ( ), as well as with MobileMe, iCloud, Google Calendar, and Yahoo Calendar accounts, Fantastical is as flexible as it is functional ($20).—DAN FRAKES
Hype 1.0
With all the buzz surrounding HTML 5 over the last couple of years, relatively little of it centers on how to actually create animated, interactive content to run on desktop computers, laptops, and mobile devices. Hype ( ), a designer-friendly authoring tool created by two former Apple engineers, offers an abundance of tools in an easy-to-use iWork style interface that generates such content without coding.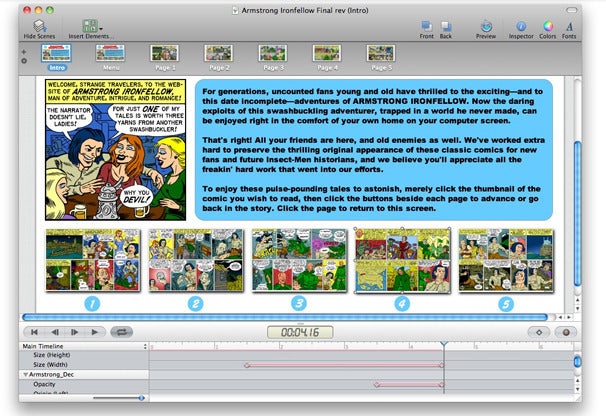 Hype's headline feature is its keyframe animation system. To animate an element, you select one or more of its properties, add start and stop keyframes to Hype's timeline, and create different states at each point. Hype then creates the tween frames. Or you can use the program to record your activity on the canvas, and automatically generate the animation. You can also create classic rollover effects and behaviors and test them in multiple browsers.
When you're finished with your creation, you can export it, copy and paste the code into another web page, or publish to your public DropBox folder. The output adheres to pure Web standards: HTML 5 tags, CSS3, and JavaScript ($30).—JACKIE DOVE
Inkling 2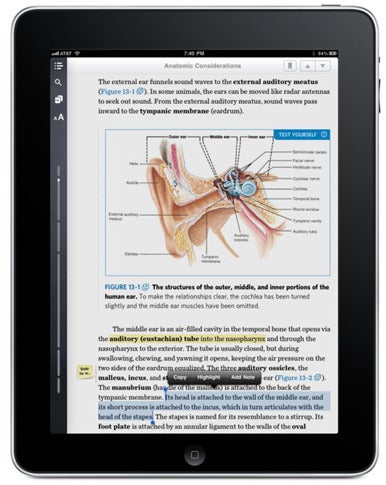 Reading books on the iPad is nothing new. We've got iBooks, the Kindle app, and who-knows-how-many PDF readers. But one app shows you what reading on the iPad should be like. Inkling licenses textbooks from traditional publishers then adapts the content for the iPad. But those adaptations aren't just replicas of the print original. Rather, the texts are completely revamped to take advantage of what the tablet can do. For example, there are no pages as such. Chapters are broken down into "cards," which scroll continuously up and down the screen. Within those cards, static illustrations are augmented by interactive multimedia—full audio and video, of course, but also animated diagrams and rotating wireframes you can examine from every angle.
Version 2.0, which came out in August 2011, adds social tools: You can now share notes and annotations with classmates and others using the same text. Inkling has adapted more than fifty undergraduate and graduate textbooks so far, and that's only the start: The company plans to apply its technology to cookbooks and other reference materials, too. The future of publishing on the iPad? It could well be.—DAN MILLER
iOS 5
In just four years, iOS has gone from running on a single Apple device to powering a whole line-up of hardware, and the most recent version is the most capable, full-featured offering yet. While plenty of virtual ink has been spilled on iOS 5 ( ), it's worth repeating that this major release is what turns Apple's mobile devices from "accessories" into fully functional computers in their own right.

Among the improvements iOS 5 brought us were a revamped notification system, which not only helped solve years of frustration, but also helped take away a key advantage of rivals like Android; iMessage, which seems poised to give cell carriers what for; and a whole host of features that free us from the tether of our USB cables: over the air software updates, Wi-Fi syncing, and improved controls for managing our media without the need to resort to a computer. And that's before we even mention iOS 5's integration with Apple's free iCloud service.
With iOS 5, Apple shows it's not resting on its laurels in the mobile market, but dedicated to continuing to bring new features and functionality to its devices and holding onto its place at the forefront of innovation.—DAN MOREN
Mac App Store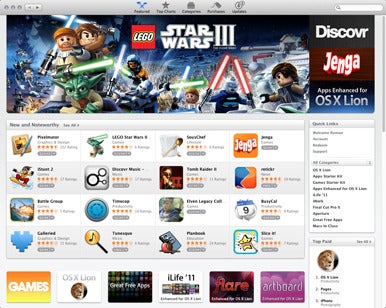 When Apple's Mac App Store debuted in late 2010, it was huge news. By making it dead-simple to find, purchase, install, and update Mac software, the Mac App Store had the potential to change the Mac software market the way the iOS App Store changed the iPhone. A year later, the Mac App Store is even bigger than we expected, with hundreds and hundreds of apps. Apple even made it the only way to purchase and obtain Mac OS X 10.7 Lion, the only way to purchase the latest versions of the company's other software, and the way buyers of recent Macs update or reinstall their iLife apps.
For the typical Mac user, the Mac App Store (requires Mac OS X 10.6 or later) offers a curated, easily browsable store, free of viruses and malware, that lets you install new apps with a couple clicks. Updates are even easier: Click one button, and you've got the latest version of every app you've purchased through the store. We still have serious concerns about how the store's policies affect certain types of software, as well as the upcoming "sandbox" restrictions. But for the moment, at least, the Mac App Store's benefits far outweigh its drawbacks, especially for less-tech-savvy Mac users—but even for us old pros (free).—DAN FRAKES
Moom

If you spend a lot of time working with windows—and we're confident that group includes many Mac users— Moom ( ) from Many Tricks offers a slew of features for making it easier to move and resize, especially if you frequently use particular window sizes and locations. For starters, Moom makes a window's little green Zoom button useful: Move the cursor over that button and you can instantly reposition and resize the current window, either by choosing one of the preset window layouts, or by drawing, on a grid representing your screen, the desired window position and size; the window instantly takes its new place on the screen. Alternatively, you can press a keyboard shortcut to bring up Moom's keyboard-control overlay, which offers the same options (and more) for keyboard jockeys.
If Moom's stock presets aren't to your liking, you can create your own custom window layouts and activate them with a click or a keypress. Moom can also take a snapshot of your screen and later restore all windows to that layout—doing so on your command or automatically when it senses a different display configuration ($5).—DAN FRAKES
Portal 2
It's nice enough in your own right to be one of the best games of the year, but it's doubly so when you're on the Mac day-and-date. This past April, Mac users got to indulge in the fun puzzlery, puns, and play of Portal 2, Valve Software's follow-up to 2007's Portal. The title, like many other Valve games, is available via Steam, the company's online store. (In fact, we gave Steam an Eddy in 2010.)
Like its original, Portal 2 asks you to solve a series of puzzles using inter-spatial portals under the guise of "testing." The sequel, however, vastly expands upon the world of the first game, introducing new plot-points, gameplay elements, and quippy characters to keep you entertained. If that weren't enough, the game sports a fantastically fun co-op mode, letting you and a partner take control of sentient robot testers to save science together.
Portal 2 also hits that rare note many titles strive—and fail—to find: It's accessible to both hard-core gamers and those with little to no interest in traditional video games, thanks to a hilarious script, stellar voice acting, and easy-to-understand mechanics. It's the kind of thing you love to see in the gaming world, and we're overjoyed to see it on the Mac ($30).—SERENITY CALDWELL
Printopia 2
The AirPrint feature of iOS 4.2 promised to let you print wirelessly from your iOS device to any printer shared by your Mac. But it ended up working only with a few specific printers. Ecamm Network's Printopia ( ) takes over where iOS leaves off, delivering AirPrint's original promise and much more—and makes it available to users running Mac OS 10.7, 10.6, and even 10.5. This utility lets your Mac wirelessly share all or any configured printers, no matter how they're connected to your Mac, with iOS devices, making it easy to print from any iOS app that supports printing.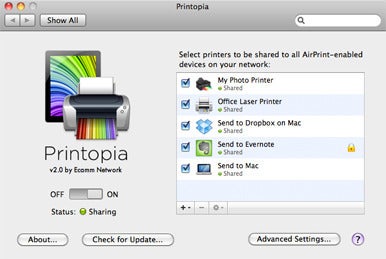 But just as useful for many users are Printopia's other features. Using the standard iOS print dialog, you can save a document to a folder on your Mac (for example, for saving receipts from an online purchases), save a document to your Mac's Dropbox folder (which makes it available to any of your Dropbox-configured devices), send a document to any application on your Mac (for example, to open an iOS screenshot in your favorite image editor, or to send a document to Evernote), or process a document using any of the PDF-workflow options available in OS X print dialogs
In other words, even if you never actually print from your iPhone, iPad, or iPod touch, Printopia can be very useful. Printopia even lets you configure your favorite printer settings—paper size, print quality, and more—for AirPrint printing. It's become a must-have utility around the Macworld offices ($20).—DAN FRAKES
Square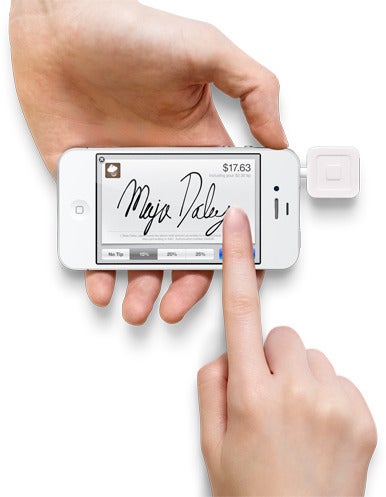 Writing checks is so last decade, especially when it seems like everybody has a credit card these days. Wouldn't it be convenient if you could pay your friend for his share of dinner with your card? Or swipe your card next time you buy something off Craigslist? That's the idea behind Square.
The team at Square is aiming to revolutionize payment processing; the company gives out free dongles and free apps that let businesses or individuals accept credit card payments. Most of all, though, they make the process simple: Just enter the amount, swipe your card, sign the touchscreen with your finger, and you're done.
Because the dongle, app, and Square account are all free, the company makes its money by taking a small percentage of each payment (2.75 percent)—and that's the same, no matter which of the four major supported credit cards you use. Payments are deposited directly into your linked bank account, and you can easily view a list of your transactions in the app or online.
The simple price structure cuts through the often byzantine terms offered by other payment processors, and the integration with popular mobile platforms like iOS and Android means that pretty much anybody can quickly start taking credit card purchases. The company also focuses on creating a payment experience that is easy, elegant, and secure—oh, and did we mention affordable? (Free.)—DAN MOREN
Tweet Marker
Twitter, the 140-character social networking service, has become so popular that there are literally hundreds of different clients out there, covering every computing platform. As a result, many Twitter users access the service from multiple clients, which leads to one of Twitter's biggest nuisances: When you launch, say, Tweetbot on your iPhone, you have to scroll up and down your timeline, perhaps loading additional messages, until you find the spot where you left off in Twitterrific on your Mac earlier that day. Tweet Marker by Manton Reece aims to fix this first-world problem.

Offered as a free service to Twitter-client developers, Tweet Marker notes your position in your main and Mentions timelines, letting multiple Twitter apps keep that position in sync between them. So when you close Tweet Speaker on your iPhone as you get out of the car, your timeline position is marked; when you walk into the office and launch Twitterrific on your Mac, it knows right where to pick up.
The biggest drawbacks to Tweet Marker are that only a handful of clients have started using it (lucky for us, they're some of the best), and not every one of those clients has implemented Tweet Market perfectly. But it's changed—for the better—how many of us have used Twitter. We're looking forward to seeing Tweet Marker in every Twitter client (free; integrated into Twitter clients).—DAN FRAKES
TypeDNA 2.0
By their nature, font managers are utilitarian. They help artists and designers organize, activate, classify, categorize, group, locate, and view up to thousands of fonts on a system or server. While most designers know what their fonts look like, it's harder to compare and match multiple fonts into pleasing combinations. That's where TypeDNA ( ) comes in.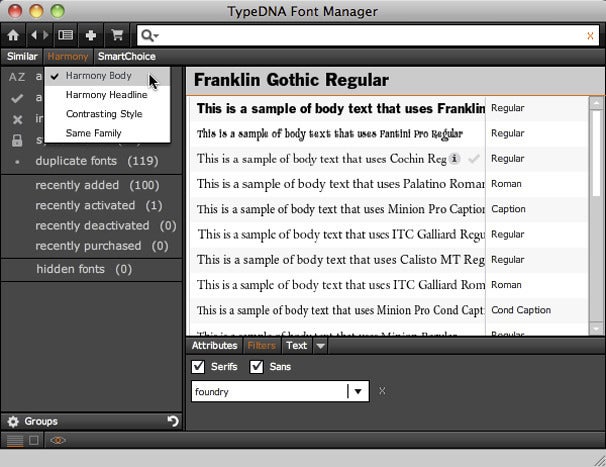 TypeDNA steps out of the database realm into creative territory by offering unique, visually-based font locating, harmonizing, and matching functions. The program introduces a creative flare to the process of choosing the right combination of fonts for a project. Features like Similar Fonts, Font Harmony, Attribute Filters, and SmartChoice intelligently assist users in finding similar font alternatives and pleasing combinations. It does this by analyzing the unique characteristics of each glyph contained within a font.
TypeDNA is a professional font manager that works both as a stand-alone utility or as a plug-in to Adobe Photoshop, Illustrator, InDesign CS5 and CS5.1. Despite its advanced features, TypeDNA is remarkably easy and fun to use for all levels of designers. And, unlike most font utilities, it plays nicely with other font managers you may have installed on your system ($49).—JACKIE DOVE