It might feel like you've just finished that last helping of turkey at the Thanksgiving, but the calendar doesn't lie: The holidays are just about here. You've got less than a dozen shopping days until Christmas. Hanukkah starts even sooner—December 20—and even Kwanzaa is right around the corner, beginning on December 26. It seems like plenty of time to get your shopping done, but not if you're relying on online shopping or buying customized tech gifts. If you still have gifts to order, pickup, or send, observe these deadlines to ensure that your gifts are delivered before 2012.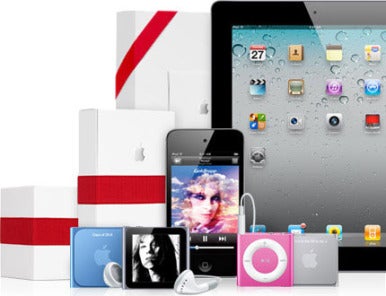 Gifts from the Apple Store
If you're giving the gift of Apple this year and would prefer not waiting in a long line at the Apple Store, you can buy any in-stock product online and have it shipped to your house. Apple is even offering free two-to-three day shipping on most of its major products. However, if you want something delivered on or before Christmas Eve, you'd better act fast—some Macs need to be ordered by Wednesday to meet this deadline. Here's the Apple Store's express shipping schedule with a holiday delivery guarantee:
iPad: December 19 for engraved, December 21 for non-engraved.
iPod: December 19 for engraved, December 21 for non-engraved.
iPhone 4 and iPhone 3GS: December 21
Customized Macs: December 14
Regular off-the-shelf Macs and popular configurations: December 21
Apple TV: December 21
All other items: December 21
All of the above dates promise delivery on or before Christmas Eve. It's too late to order an iPhone 4S online–they had to be ordered by December 5 to guarantee delivery by December 24. If you order one now, it's set to ship between December 23 and January 3. At this point, you can either reserve an iPhone 4S after 9:00 p.m. for in-store pickup the next day, or else face waiting in line for a walk-in purchase.
Cards App and iPhoto Gifts
iPhoto has some wonderful gift-giving options for creative types. Photo books, letterpress and standard cards, calendars, and prints are some of the options iPhoto offers to those who want to customize photo gifts this year. Or, you can use the Cards app on your iPhone or iPod touch to make your own letterpress cards. If you use either program to make holiday cards, Apple will print, address, and send each individual card, and the price includes shipping.
Make sure to order your iPhoto gifts by December 17 with standard shipping, or by December 18 with express shipping, to guarantee delivery by the Christmas Eve. Cards app letterpress cards should be ordered by December 14 to arrive by the holidays, as express shipping is not available for Cards app cards.
Other Online Stores
Best Buy and Amazon have an array of Apple products (and other goodies, of course) available for purchase online. While their holiday shopping options are a little bit more flexible, they do have deadlines nonetheless:
Best Buy: The deadline for standard shipping is Tuesday, December 20 at 11 a.m. ET (8 a.m. PT). This holds for all in-stock items outside of the Best Buy "Marketplace" and that are not in-store only. Or, for the ultra procrastinator, you can buy online as late as 3 p.m. on December 24 for same day in-store pickup.
Amazon: Amazon's Christmas ordering cutoff for all items is Monday, December 19 (Free Super Saver Shipping and standard shipping). Depending on the item, you can still place an order with one-day or two-day shipping on December 21 or 22. Additionally, if you live in a city that offers Local Express Delivery, you can place orders on select items for same-day delivery on Christmas Eve. If you need a last minute stocking stuffer on Christmas Day, you can buy a printable or e-mail friendly gift card.
Ship gifts on time
Maybe the hard part is over—you've already purchased everything on your shopping list. Remember, FedEx, the post office, and UPS all have shipping deadlines to ensure that your gifts arrive in time.
US Postal Service: December 20 for First Class Mail, December 21 for Priority Mail, and December 22 for Express Mail. Parcel Post, the least expensive (and slowest) option, must be sent by December 15.
UPS doesn't give specific holiday deadlines on ground shipments, as delivery time depends on the pickup and delivery location as well as the size of the package. UPS ground shipments placed during the two weeks before Christmas are not guaranteed a December 24 arrival, so at least a 7-day head start is advised (December 17). Ship items through second day air by December 22 or next day air by December 23, and make sure you specify that the items need to be delivered by December 24 on the shipping label.
FedEx has many delivery options to choose from, but the absolute final deadline is on December 23 (either Priority Overnight or First Overnight). For more economical options, the FedEx Ground deadline is on December 16, and gifts must be sent by December 20 if you want to use the Express Saver option.
[Leah Yamshon is a Macworld staff editor.]