Exacting foodies use the LocalEats restaurant finder on their iPhone to track down the best places to eat in a particular city. Thanks to the latest update to the app, they'll also have a pretty good idea of what will be on the menu when they get there.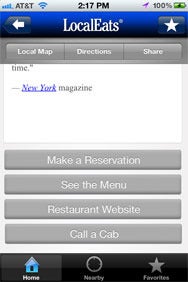 Version 2.4 of the mobile restaurant finder, which hit the App Store Wednesday, adds menus to many of the restaurants listed in LocalEats. The developer of LocalEats struck a partnership with SinglePlatform, a company that specializes in promoting local businesses, to add that information to the iPhone app.
The concept behind LocalEats is to help diners find nearby eateries enjoyed by the local populace—nationwide chains need not apply. The app can find restaurants in your vicinity, provide you with directions, and—thanks to partnerships with OpenTable and Taxi Magic—line up a reservation or hail you a cab. The app did include basic information on pricing, cuisine, and other details about its listed eateries, but for a detailed menu, you would have to leave LocalEats and search for that information on the Web.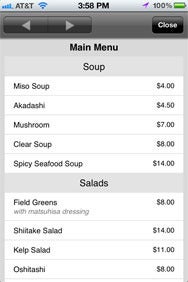 That changes with LocalEats 2.4. Tap on a restaurant listing and scroll down the page past the summary information about an eatery, and you'll find a See the Menu button wedged between buttons for making a reservation or visting the restaurant's website.
Kelsey Weaver of LocalEats says her company matched up the restaurants included in its app with the listings provided by SinglePlatform. Out of the 14,000 or so listings included in LocalEats, about 12,000 will feature menus, Weaver estimates. That will save most LocalEats users from having to leave the app to find out exactly what's for dinner that night.
"If we can eliminate that extra step, why not?" Weaver said.
My time with updated version of LocalEats certainly seems to reflect that experience. The app found about 24 vetted restaurants within a four-mile radius of my house. Eighteen of those now include menu information, courtesy of LocalEats 2.4.
The addition of menus is just the latest in a series of changes for LocalEats. Earlier this year, the iPhone app followed the lead of its iPad counterpart and added listings for cities outside the U.S. Just last week, LocalEats announced a deal with BiteHunter, another iPhone food finder that specializes in aggregating daily deals. Under the partnership, LocalEats will incorporate dining deal information from BiteHunter into its listings. BiteHunter will feature a LocalEats-provided restaurant summary for select eateries in its deals app.
"It's definitely a great addition to our app," Weaver says of the LocalEats-BiteHunter integration. "It's a big step forward to improving our app."