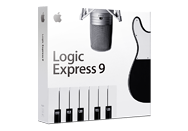 Apple rolled out an update for Logic Express, with version 9.1.6 of the digital audio workstation promising a variety of fixes and app stabilization.
Users can view the full change-list on Apple's support website. Highlights include improvements to full-screen view and Mission Control in OS X Lion; a fix for the sample preview option; and a new path option for saving recorded files.
There are also fixes for improving the app's performance and stability; audio; plug-ins and instruments; control surfaces; and general issues.
The 140.1 MB update is available for all users of Logic Express 9 running Mac OS X 10.6.8 or OS X Lion.