One of the most widely used cameras in the world isn't a DSLR or even a point-and-shoot—it's the one that comes built into your iOS device. Certainly, the main reason for that is convenience, but iOS photographers also have a number of great photo apps at their disposal. We've selected three photo tools—an all-in-one offering that promises to take care of most of your photographic needs, a versatile image editor, and an editing app that focuses on a particular task. We've also picked an app that takes the iPhone's video-capture capabilities in exciting new directions.
Camera+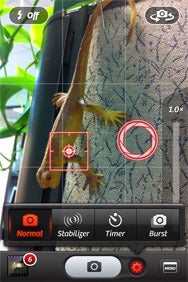 When it comes to taking quality iPhone photos, there's no bigger name than Camera+—and for good reason. Version 2.0 of Tap Tap Tap's all-in-one tool made an already impressive app even better: Camera+ received a significant speed boost, more photo effects, and a new great-looking design. The app features four shooting modes as well as separate exposure and focus locks; it also lets you use the iPhone's flash as a continuous light source to brighten a scene. But what makes Camera+ so addictive are its simple and effective editing options. Users can immediately enhance their images by choosing photo scenes, such as Food or Portrait; cropping; adding borders; and trying out fun retro effects.—Alexandra Chang
Dramatic Black & White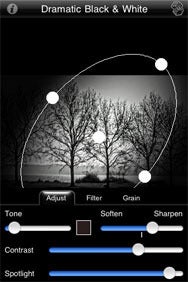 If you're looking to create a black-and-white image, the iPhone or iPad version of Dramatic Black & White can handle the artistic challenge of creating a compelling monochrome image. The app from JixiPix reproduces the effect of the traditional darkroom with three sets of dazzling monochrome presets: Black and White, Infrared Photo, and Dramatic B&W. The app is extremely easy to use: Adjust the ellipse spotlight tool with your finger and use the slider controls to fine-tune the effect. Available separately for the iPad as well as in this iPhone version, the app also supports high-resolution images, offers a preview mode, and lets you create custom presets. When you're done, you can save, email, or post your Noir creation to your Facebook page.—Jackie Dove
Snapseed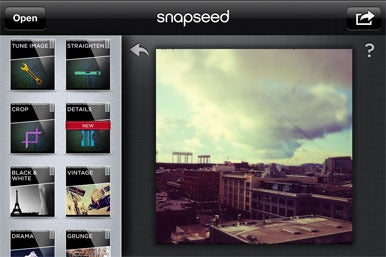 As for photo-editing, we turn to the powerful, intuitive Snapseed. Nik Software's universal app offers a variety of photo-editing tools, from adding vintage filters and frames to adjusting the brightness and contrast of an image. What sets Snapseed apart from all the other iOS image editors is its gesture-based interface: You can tap and slide your finger anywhere on your iPhone or iPad screen to enhance your photographs. You can switch between different editing options, adjust a specific element of an image, or add a Control Point (Nik's unique tool to make selective edits)—all without ever having to tap at little sliders again. If you want to make quick edits in an app that just makes sense, Snapseed is perfect.—Alexandra Chang
CollabraCam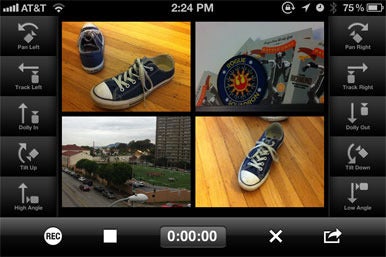 Just as the still images produced by Apple's iOS devices impress, the iPhone 4 and 4S have also proven to be excellent tools for independent filmmakers looking to shoot on a miniature budget. CollabraCam takes that idea one step further, providing directors with a fully wireless multi-camera production system. The app from Apptopus requires no dongles or expensive receivers to work—just a couple of iOS devices running CollabraCam on the same wireless network. Set up your iPad as the director and see up to four live video streams from connected devices, give visual directions for moving the camera, and switch devices as you record to edit on the fly. CollabraCam is unique and inexpensive; best of all, it works just as well as promised.—Serenity Caldwell
When you purchase through links in our articles, we may earn a small commission. This doesn't affect our editorial independence.