Good news for those who didn't abandon Netflix after the whole Qwikster debacle: the video rental and streaming service has released version 2.0 of its iOS app, which brings a completely overhauled user interface to the iPad. That's a welcome change, as the previous user interface—which more or less channeled Netflix's website—often suffered from poor performance and clunky usability.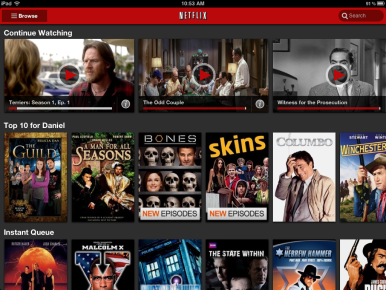 The new iPad interface gets high marks for both attractiveness and usability. When you launch the app, the home screen presents you with a scrollable list of videos you've recently watched, with the option to pick up where you left off. To distinguish these videos from the rest of the content, the Continue Watching section uses thumbnails of the videos, with prominently placed Play buttons.
Below that list are a number of personalized collections, including a top-10 suggestions list, your instant queue, a handful of genres that might appeal to you, selections that are similar to videos you've recently watched, and movies and TV shows that have been recently added to the service.
All of these lists can easily be scrolled by swiping left or right, and tapping on any title will bring up a panel of information about it, along with ratings, the ability to add it to your instant queue, a selection of similar movies, and, for TV shows, a list of episodes and a pop-up menu that lets you quickly jump between seasons. You can play any video by tapping on the title's poster in this detail view.
A drop-down menu in the top left corner lets you easily browse by genre, and, like the home screen, each genre includes scrollable lists of sub-categories, topped in each case by personalized suggestions and recently added titles. And, of course, there's a search box nestled in the top right corner, though it only appears to let you search by title.
Video playback hasn't changed much, with simple controls for scrubbing through a video, adjusting the volume, and jumping back 30 seconds. There's also the ability to activate closed captions for those videos that have them, and toggle between letterboxed and fullscreen versions of the video.
In addition to the new iPad interface, the Netflix app also adds access for users in Latin America and improves stability. The new iPad interface requires iOS 5 or later.