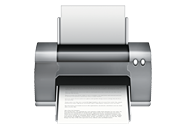 Do you like printing and scanning things? Are you running OS X 10.6 or 10.7? Then it's your lucky day—assuming you have Brother or Lexmark hardware connected to your Mac and get excited by printer driver updates.
Apple has released Brother Printer Drivers 2.8 and Lexmark Printer Driver 2.7 for users of OS X 10.6 or later. The downloads include the latest drivers for Brother and Lexmark devices, and should show up in Software Update if you've used a printer/scanner from one of those companies in the past.
As usual, the incremental updates via Software Update are pretty small, but the full downloads weigh in at 149.6MB and 182.9MB for Brother and Lexmark, respectively. Both are available from Apple's Support Downloads page.