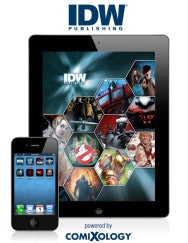 At the New York Comic Con this past October, independent comics publisher IDW announced a partnership with Comixology, making IDW's library of work available on the Comics by Comixology platform, which includes iOS, Android, Kindle Fire, and Web apps. That partnership has gotten much deeper with Wednesday's announcement that Comixology will power all of IDW's storefront apps.
Because of this, IDW-comic lovers will have access to a synced digital reading experience. "[Comixology's] platform allows readers to buy once and read on multiple devices. This is becoming very important for our IDW fans," Jeff Webber, IDW's director of ePublishing, told Macworld. "We now have seamless integration between all apps."
While customers have always been able to make in-app purchases in IDW apps, they were not able to sync or transfer books across different apps and platforms. Now readers will be able to access their purchased titles between IDW's various apps, the newly launched IDW webstore, and Comixology apps.
The IDW apps that are powered by the Comixology platform include the IDW Comics app, which offers a complete digital catalog of the publisher's comics, and a number of its comic-specific apps including: Transformers Comics, Start Trek Comics, Doctor Who Comics, G.I. JOE Comics, 30 Days of Night Comics, Templesmith Comics, and True Blood Comics.
With IDW on their side, even more of the iOS comics space is consolidated under the Comixology umbrella, specifically available on the company's Comics iOS app. Other major comic publishers who are powering their apps through Comixology, and making their comics available on the Comics app, include Marvel, Dynamite, Vertigo, and DC Comics.
Another major announcement from IDW is that its digital release schedule will now match its print release schedule, so readers will be able to purchase new digital titles the same day as their print versions. Several other comic publishers have also made their digital comics available day-and-date earlier this year, indicating the comic world's collective move toward digital reading.
All of IDW's Comixology-powered iOS apps and Comixology's Comics app are available for free in the App Store and require an iPhone, iPod touch, or iPad running iOS 4.0 or later.