Whether you have a new iPad, an older iPad, or an iPad mini, consider using a protective case or carrying bag to minimize the risk of damage. True, the sleek design of this tablet family makes you want to show off your iPad, but they are still vulnerable to scratches and scuffs. While we haven't tested every case and bag on the market, here's a rundown of the most common types, along with a few good examples of each.
Shopping tips
There are hundreds of third-party iPad cases and bags on the market, each specifically made for either the full-sized iPad or the iPad mini. Because the third-and fourth-generation iPad models have the same body size, many cases are made to fit both, but there are a few exceptions. Here are a few things to look for when shopping for iPad protection.
When looking at the full-sized iPad line, keep in mind that, apart from the third- and fourth-generation iPads, each iPad model has a slightly different shape from the last. A case or bag made for one model in particular may not fit any other; this is particularly true when it comes to the original iPad. Many cases made for the iPad 2 also fit the third-generation iPad, but not all do. Cases made specifically for the third-generation iPad should also fit the iPad 2 and the newest iPad (the fourth-gen), but there are some exceptions. If you're not confused enough, here's another caveat—cases made specifically for the fourth-generation iPad may not be compatible with the third-generation iPad; although they share the same body design, the Lightning port on the fourth-gen model is much smaller than the 30-pin dock-connector port found on the third-gen, so if a case has a cutout on the bottom designed for the Lighting port, it won't be large enough to fit the older port.
Though this sounds like a lot of information, relax: most cases specify which iPad models they'll work with on the packaging. If it's not clear whether a particular product fits your iPad, compare the case or bag's specs with Apple's iPad specifications, ask a store employee, read customer reviews, or e-mail the vendor, to confirm. Because there is only one model of the iPad mini to date, any case designed for the mini will fit your mini, no matter what carrier or version you have.
When shopping for a form-fitting case, make sure it doesn't block the iPad's bottom-mounted speaker and dock-connector or Lightning port; top-mounted headphone jack and microphone; front and back cameras (for all models apart from the original iPad); and buttons and switches—unless, of course, the case is designed so that you take your iPad out of the case to use it.
If you're shopping for a bag, and you see one that claims to be perfect for both iPads and netbooks, be suspicious. Most of the bags that claim to fit both classes of products end up being a poor fit for the iPad—the iPad is much thinner than the typical netbook and will swim around inside. Same goes for the iPad mini—bags with sleeves designed for the iPad are likely to be too large for the mini and won't provide a snug enough fit.
Case types and recommendations
Apple Smart Cover: Apple's in-house protector for the iPad can't really be called a case—as its name implies, the Smart Cover for the iPad 2 or later (polyurethane, $39; leather, $69) and the iPad mini (polyurethane, $39) is really just a cover, and one that protects only the iPad's screen at that. But oh, what a clever cover it is, containing a slew of neatly arranged magnets that let the Smart Cover's hinge attach, perfectly oriented, to the edge of the iPad; adhere to the iPad's screen; and automatically sleep and wake the iPad when you close and open the cover, respectively. The Smart Cover also rolls up into a triangular shape to act as both a typing stand and a viewing stand. (Note that if you want to use the Smart Cover with another case, make sure the latter leaves room for the Smart Cover to attach to the left-hand side of the iPad.)
Apple makes a more-protective option for the full-sized iPad—the Smart Case ($49), which combines a polyurethane shell with a Smart Cover to provide full-body protection.
For a different look with the same functionality, the Miniot Cover MK2 ($91) is a sleek-looking Smart Cover-esque case made from solid wood.
Shells and skins: Shells and silicone skins generally cover the back and sides of your iPad, but not the screen, offering moderate protection while letting you use the iPad in its case. These cases range from thin, polycarbonate coverings to soft-silicone skins to polycarbonate-and-rubber protection to chunky, molded-grip gaming jackets. Shells and skins are likely to be model-specific, so a skin made for the fourth-generation iPad certainly won't fit the original iPad and may not fit the iPad 2 or third-generation. Recommendations:
Sleeves: Sleeve cases protect your iPad inside another bag, such as a backpack, briefcase, or messenger bag. Some are simple slide-in designs, while others zip closed or sport a flap closure for added security. Most fit all iPad models; make sure it's designed for the iPad mini if that's what you need. Recommendations:
Folio cases: Folio-style cases offer all-over protection for your iPad, but flip open for easy access to the iPad's screen without requiring you to remove the tablet from the case. If you're looking for stylish protection, this is it. A folio case made for the original iPad won't fit the iPad 2 or newer, and vice versa. Folio cases made for the iPad mini will only fit the iPad mini. Recommendations:
Bags: A bag lets you carry your iPad along with your other gear, and you can use it to tote your daily stuff even when you aren't carrying your iPad with you. Bags generally fit all models of the iPad; consider an extra case for your iPad mini for a snug fit. Recommendations:
Carrying packs: Sometimes you want to carry more than just your iPad, but you don't want a bulky bag or backpack. A carrying pack protects your iPad but also accommodates cables, a charger, and sometimes even a standalone Bluetooth keyboard. Most carrying packs will accommodate all generations of the full-sized iPad; again, look for a pack optimized for the iPad mini if that's the device you're shopping for. Recommendations: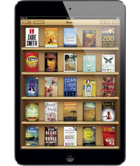 Body films:Body films protect the sides and backside of your iPad from scratches and scuffs
without adding bulk—they're simply a 
thin layer of super-protective material that 
adheres directly to the iPad. Most types can be removed without leaving behind sticky residue. Some also include a screen film (see the next section). Although the models listed here are for the third- and fourth-generation iPads, each is also available in a version for each of the other iPad models and the iPad mini. Recommendations:
Screen films:Screen films are designed to protect the 
iPad's screen from scratches without affecting touchscreen performance; a few also aim to reduce screen glare. Unfortunately, many of these films are difficult to apply, and some actually make glare and fingerprints worse. If you're patient and have a steady hand, these are the best options. Recommendations:
Note: When you purchase something after clicking links in our articles, we may earn a small commission. Read our affiliate link policy for more details.