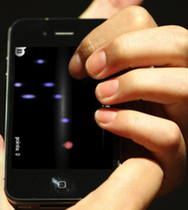 iOS music maker Smule is at it again: On Thursday, the company released Magic Guitar, its latest iPhone virtual instrument.
Smule, of course, is the developer behind apps like Ocarina, Leaf Trombone, Magic Piano, and MadPad, so the company has plenty of experience in allowing iOS users to unlock their inner rockstars or virtuosos.
To use Magic Guitar, you hold your iPhone as if it's the neck of a guitar. Rather than strum, your job is to handle fret duties. As in the popular Rock Band game, the notes you're meant to play scroll across the screen; when they hit the right place, you tap (or tap and hold) as indicated. Certain notes require that you bend your virtual strings.
As you rock out with Magic Guitar, you can choose from a wide variety of tunes—the songbook includes tracks from Jimi Hendrix, The Rolling Stones, KISS, Poison, Tom Petty, Credence Clearwater Revival, Bruno Mars, Santana, Coldplay, and more. Smule promises new, free songs will be added regularly. The better you play, the more points you earn and additional tracks you unlock.
You choose the guitar sound and song speed. And when you've finished butchering or improving upon, say, "Scarborough Fair," you can share your creation via Twitter, Facebook, or email. (This reporter, quite frankly, thinks he nailed it.)
Magic Guitar is free and requires iOS 4.0 and an iPhone 3GS or better, iPod touch 3rd generation or better, or iPad.