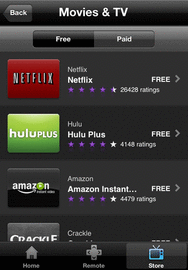 Roku, whose devices play streaming Internet video on the television, has unveiled a new app to let you use your iPhone as a remote control for its systems.
The Roku app launched Thursday. The offering empowers users to launch and rate any of Roku's channels—which include Netflix, Hulu Plus, Amazon Instant Video, HBO Go, and more—from their iOS device.
The app also offers options such as instant replay, as well as the ability and organize the channels you use on a particular Roku player. For users who have multiple Roku players, the company says the app can easily switch among the devices.
With the unveiling of its iOS app, Roku catches up with competitors like Boxee and Apple TV, both of whom have long let customers use their iPhones to control streaming video on their television sets.
The new app is free and works with all Roku devices. It is compatible with all devices running iOS 4.2 or later.