After a short hiatus, we're back just in time for the holidays with a little iPhone-case cheer for your browser. Whether you're looking for a last-minute gift, or getting ready to make case shopping one of your New Year's resolutions, we've got you covered!
Brando: The Brick Protective Case (iPhone 4 and 4S; $10) turns your iPhone into a giant Lego brick, complete with spare parts that you can use to create your very own custom look. It comes in aqua, purple, pink, back, yellow, blue, green, red, white, or orange, each with its own selection of spare bricks.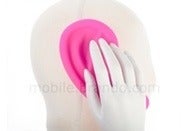 If that's not unusual enough, how about giving the Right Ear Back Case (iPhone 4 and 4S; $10) a go? As the name suggest, this case mimics a large human ear made out of protective but lightweight rubber. It's available in black, white, or, if the shape is not subtle enough for your tastes, bright pink.
Camalen: The Classic (iPhone 4 and 4S; $39) is a leather pouch that features an extra pocket for business cards, banknotes, or credit and ID cards. It's available in black, orange, brown, or red.

The Equator (iPhone 4 and 4S; $39) features a belt clip and all-leather construction to keep your handset safe and handy at all times. A magnetic clasp ensures that everything stays put until you decide otherwise. It comes in black, orange, or brown.
The Tulip (iPhone 4 and 4S; $29) is a simple leather pouch with a textured pattern, available in black, orange, red, grey, or pink.
Finally, the Yin-Yang (iPhone 4 and 4S; $39) is a pouch that features a rough/smooth texture pattern reminiscent of the yin-yang symbol of Eastern philosophy. It's available in black, orange, brown, red, or white.

Concord Keystone: The NautiCase (iPhone 4 and 4S; $50) is—a bit like the Viking village in How to Train Your Dragon—sturdy, rugged, and splash-proof. Its construction features a hard polycarbonate shell covered with an outer layer of rubber for excellent grip and resistance to drops and dents. It comes in black, white, or black with accents in blue, pink, purple, or orange.

Gerber: Can't get enough of your newborn? Gerber's got you covered with its customizable iPhone cases (iPhone 4; $25), which feature the little one's name, photo, and birthdate. The case is avaialble in white, blue, or, of course, pink. Unfortunately, it doesn't appear that Gerber has figured out a way to make your infant sleep for longer than two hours at a time.

InCase: The Animal Snap Case (iPhone 4 and 4S; $35) is a hard-shell, snap-on case with a design reminiscent of a zebra's coat. The case is stylish, protective, and will help confuse predators should you ever find yourself stranded in the middle of the Savanna. The Animal Snap Case is available in white and red.
Incipio: Ever wanted to design your own case? Yep, there's an app for that, and it comes from the fine folks at Incipio. The Bespoke Case Customizer runs on your iOS device and can be used to create your very own case by using your favorite photos or picking from the many patterns and designs provided by the company. You can then order your case and have it delivered to your home.

Sena Cases: This company has announced four new models just in time for the holidays. The Hampton Pouch (iPhone 4S, $50) features a hand-sewn, two-tone, saddle-stitched design and is made entirely of full-grain leather. It features a flap that covers the phone when not in use, and it's available in black and grey; red; or black and white.
The Sarach Flip (iPhone 4S; $63) also sports a flip-up front cover and features all-leather construction with saddle stitching. It comes in black and grey; red; black and white; or red and white.
The Creativo (iPhone 4S; $35) is a unique pouch that includes a small window on the front for accessing the iPhone's swipe-to-answer feature, allowing you to take calls without removing the handset from its pouch. It comes in black, orange, red, or brown.
Finally, the Bumper Wallet (iPhone 4S; $40) is a wallet-style holster with enough room to accommodate an iPhone 4 wearing Apple's iPhone 4 Bumper. The Wallet includes a belt clip, and features a handy multi-purpose pocket that you can use for money, ID, and credit cards. The case comes in black, orange, red, brown, crocodile black, or crocodile red.

Switcheasy: The Melt (iPhone 4 and 4S; $35) features a clever design that makes your phone look like it's covered in a delicious coating of melted frosting. The case's two-piece construction makes installation a breeze, and the UV- and scratch-resistant coating keeps the phone and the case safe. The Melt is available in red and white, black and grey, white and grey, orange and green, green and red, or pink and blue.

Uniea: This company manufacturers a variety of different snap-on cases (iPhone 4 and 4s; $30 to $35) made out of both plastic and leather materials. The models feature many different patterns and themes, ranging from simple and elegant leather designs to abstract and artsy plastic models with various patterns and drawings.
When you purchase through links in our articles, we may earn a small commission. This doesn't affect our editorial independence.