Many of us expect updates to our iOS apps to provide greater stability as well as attractive new features. But in some instances, this isn't the case. A recent Twitter app update, for example, infuriated some users because of its rearranged interface and lack of beloved features found in earlier versions of the app. Making matters worse, when you update an app using iTunes, the previous version of the app is tossed in the trash. Should you empty the trash, good luck reverting to the older version.
Fortunately, with the help of Automator, it's very easy to make copies of your iOS apps so you can easily revert to the previous version. It goes like this: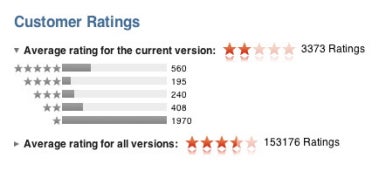 Launch Automator (in your /Applications folder) and in the sheet that appears choose Folder Action. Click Choose. Now start building your workflow. Select Files & Folders in Automator's first column. From the second column, drag the Copy Finder Items action and then the Rename Finder Items action into the workflow area to the right.
In the Finder, create a new folder called Backed Up Apps and place it in your Documents folder. Drag this folder to the pop-up menu within the Copy Finder Items action. In the second action, click on the first pop-up menu and select Make Sequential. The Place Number pop-up menu should read After Name and the Start Numbers At field should read 1.
In the Finder, navigate to the Mobile Applications folder, which, by default is found in yourusername/Music/iTunes. Drag the Mobile Applications folder to the Folder Action Receives Files And Folders Added To pop-up menu at the very top of your workflow. Save and name your workflow.
You have now attached a folder action to the Mobile Applications folder. Whenever anything is added to this folder—a completely new app or an app update—a copy of that item is also created in the Backed Up Apps folder. You needn't worry about overwriting an older version of the app because each new version is renamed, thanks to the Rename Finder Items action you added. Should you be unhappy with an update in the future, simply replace it with a previous version stored in your Backed Up Apps folder. This will all happen automatically as you download new apps.
Note: If you have a lot of apps and routinely update them, your Backed Up Apps folder can get pretty swollen. It's worth your while to look through it every so often and remove older versions of app that you know you won't want to replace—updates a couple of generations old, for example.
If you'd like to save a backup copy of the apps you have right now, go to the Finder. Open the Mobile Applications folder (in yourusername/Music/iTunes), select everything inside of it, and then Option-drag the files to the Backed Up Apps folder you created.
Note: When you purchase something after clicking links in our articles, we may earn a small commission. Read our affiliate link policy for more details.