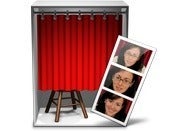 You may have forgotten about Photo Booth, but Apple sure hasn't. In Lion, Apple updated its software for quickly capturing photos from your Mac's built in camera, adding full-screen mode and new visual effects that leverage face-detection features. But while Photo Booth's feature set is still pretty simple, there are a few power user tricks to the software that may help you get more out of it.
First of all, there's the flash. When you snap a photo with Photo Booth, the software briefly makes your Mac's display go bright white, to simulate camera lighting. But there's a new option in Lion to disable that flash permanently: Go to the Camera menu, and deselect Enable Screen Flash.
Even before Lion, you could disable that flash on a photo-by-photo basis, and that trick still works: Simply hold down the Shift key as you snap your photo. If your room is well-lit, disabling that screen flash may help you prevent that blueish tint from characterizing your photos.
Normally, Photo Booth employs a three-second countdown before it takes your picture. Hold down the Option key when you click on the shutter button, however, and your photo will be taken instantly. If you don't hold down Option and the three-second timer starts counting, you can cancel your photo by pressing the Escape key before the shutter snaps.
Even better, these keyboard shortcuts work in tandem with Command-T, the shortcut for taking a photo. That is, Command-Option-T takes a picture without the countdown; Command-Shift-T takes your photo and disables the screen flash; and Command-Shift-Option-T takes your photo instantly and sans flash.