Online video editing service Animoto has gone mobile with its new Animoto iPhone app, released on Monday. As with the company's website, the mobile app lets users easily create professional quality video slideshows—with cuts, pans, music, and graphics—from still images.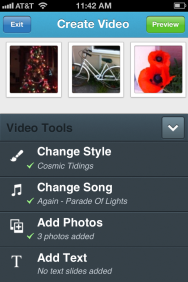 Creating and editing video on the iPhone's small screen is a challenge even if you know how to use editing programs like iMovie. With Animoto, the app does all of the work—you just need to pick the style, song, photos, and text you want in your customized video. CEO Brad Jefferson told Macworld that the company's goal was to create a product that "anyone can access without knowing anything about video editing."
Users pick from 500 free songs—including holiday-related ones—and five theme styles: Animoto Original, A Wonderland of Snow, Cosmic Tidings, Vintage Voyage, and Watercolor Seashore. The Animoto app then takes the selected Camera Roll images and stitches them together so that they're timed with the beat of the chosen music. The result is a captivating video slideshow that displays your images with the best possible cuts and transitions.
Once you've created your video, you can save it to your Camera Roll or share it via Facebook, Twitter, email, or text message. When sharing via email and text, the app will send the recipient a link to the video on Animoto's website. (The video is private and not accessible to others unless you share a link with them).
You can make as many 30-second videos (12 photos maximum) you want with a free Animoto account. For users who want to make longer videos with more images, the company offers an Animoto Plus service for $5 a month or $25 a year. (Plus service users can create longer videos on both Animoto's iPhone app and its Web-based service.)
I used Animoto to make a couple short slideshows. It was a painless process and it took less than five minutes to make an impressive, share-worthy video. I can imagine this being a great option for the holidays or any special occasion—birthdays, Mother's Day, anniversaries, and more—when you'd want to share photos with loved ones. Here's a sample video I created using Animoto's iPhone app:
The Animoto app is available in the App Store for free; it requires an iPhone, iPod touch, or iPad running iOS 4.3 or later.