By now you've probably attended a couple holiday get togethers—maybe even hosted one yourself—and have had plenty of photo opportunities by the tree, at dinner with friends and family, or out in the winter landscape. And once the holidays hit, that means even more memorable shots of the kids opening presents and dad devouring latkes. Instead of storing those photos within the confines of your camera's memory card, you'll probably want to share them with family and friends.
While you can certainly email batches of photos, that can get tedious and time-consuming. And it's not always the best idea to post your holiday photos on Facebook for all 500 of your "friends" to see. Your photo-sharing needs will depend on how private you want to keep your holiday shots, whether you prefer a paid or free service, how you want your photos displayed, and your preferred method of sharing—via Web or iOS device. Here are some ways to share your holiday photographs.
Go basic and free
There are plenty of free photo-sharing sites available on the Web, but not all of them offer user-friendly features. While free sites won't give you as much customizable features as paid services, or display photos in the most elegant manner, they're great for basic sharing.
Flickr is perhaps the biggest name of the bunch, and offers a decent free account option. This isn't for super snap-happy folks though—users can upload only up to 300MB worth of photos each month (around 100 photos). You can organize photos into different albums and set specific privacy levels for individual photos and albums. So if you don't want the entire Flickr community to see photos of you in your signature Christmas sweater, you can choose to let only Flickr users who are tagged as Friend or Family view it. It's also possible to share private photos with people who do not have a Flickr account by mailing them a special URL.
Google's photo-sharing service Picasa is another free option that's especially convenient for people who already have Google or Gmail accounts. Picasa Web Albums offers you an unlisted gallery URL which you can email to friends or family. You can also upload a gallery and, within Picasa, choose specific contacts you want to share it with. Picasa will then send an email notification to the recipients notifying them that you have invited them to view a photo album, along with a link to the album. Like other Google products, Picasa offers a large amount of free storage—1GB to be exact.
Create large, stunning galleries
For a modest amount of money, you can create beautiful online galleries with a host of display, sharing, privacy, and protection features. Smugmug is one of the best available options—the photo site that lets you store, display, and share photos in an aesthetically pleasing manner. Accounts start at $5 per month or $40 per year, and offer unlimited photo uploads, a choice of 50 photo display themes, and an assortment of privacy and sharing options. For instance, users can choose to password-protect their entire site, or set individual passwords for different galleries and share that information with specific people. Smugmug caters to the uber-social too—it's easy to embed photo slideshows in blogs, share via social networking sites, and allow friends and family to edit your photo galleries. For $60 a year, users can also upload and share 20-minute videos.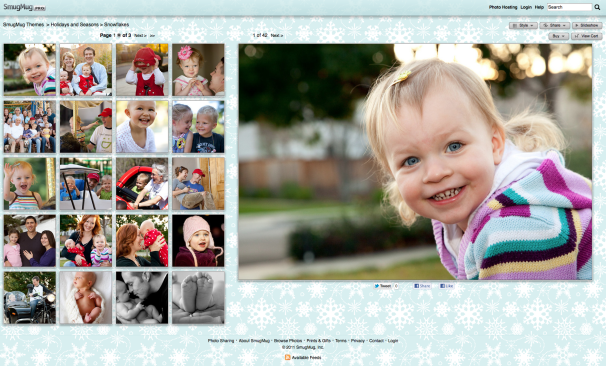 Slickpic is similar to Smugmug, but it costs a bit less. For $25 a year, Slickpic offers unlimited photo storage for high-resolution images, enhanced privacy and security settings, preset and custom photo display themes, and more. One of the coolest features that Slickpic offers is its photo editing and enhancement service. You can submit photos to Slickpic photographers who then edit and enhance the images to your liking and instruction. Depending on the type of account, users get between 50 and 550 photo edits per month. (Slickpic also offers a free account, though it lacks a few major features available through the site's paid options.)
Share instantly from your phone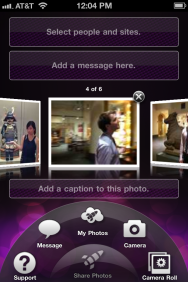 With the help of a photo-sharing app, you'll be able to send funny snapshots of Mom dancing to Jingle Bell Rock to all of your faraway aunts and uncles before she even has time to scold you for taking photos in the first place. Photorocket's free iOS app lets you quickly and easily create photo galleries from your iPhone's Camera Roll images. Once you've chosen the most share-worthy shots, add a little note and share with others by selecting contacts from your Address Book, or by manually entering in email addresses. (Your photos are shared only with the people designate.) Once you have a Photorocket account through the iOS app, you will also be able to go onto the company's website to further edit your photo galleries.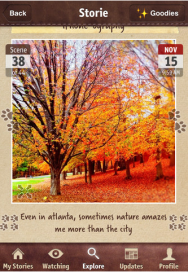 For especially festive photo-sharing, look no further than Storie: Holiday Edition, a free app for your iOS device. Storie lets you pull images from your iPhone's Camera Roll, Facebook, and Instagram—you can even snap photos from within the app, if you want—to create flip-book-like photo galleries called Stories. The app gives you the option to add filters and text captions to individual images. Once you've created a Storie, you can keep it unlisted and private, sharing it with only close friends and family—or make it visible to the entire Storie community.
Both apps make it very easy to share on social networking sites such as Facebook, Twitter, and Tumblr. Photorocket also lets you post your images to Flickr. When you choose to share on other sites, the apps will post a link to your image gallery. So keep in mind that sharing this way will make your images visible to everyone who can see your posts. The App Store is chock full of photo-sharing apps that are similar to Storie and Photorocket. Some other good ones to consider include LiveShare and Linea.
[Alexandra Chang is a Macworld staff editor.]