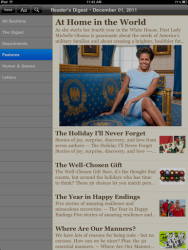 iOS device owners who can't get excited about Amazon's recent software update for the Kindle Fire may be far more interested to learn about the company's latest updates to the Kindle e-reading app.
The updates in version 2.9 of the free, universal Kindle app include a couple iPad-specific additions: Kindle for iPad now offers access to the 400 magazines and newspapers already available on the Fire, including Martha Stewart Living, Cosmopolitan, Popular Science, and Macworld—in full color. You can purchase a single issue at a time, or subscribe for recurring wireless delivery. iPad users can also read "print replica textbooks," which reflect the layout and formatting of the print editions, adding in features like notes, highlights, and zoom.
Both iPad and iPhone/iPod touch Kindle app users gain the ability to email documents to their new Send-to-Kindle email addresses; those documents are archived in the Amazon Cloud and can now be accessed from the iOS app or other supported Kindle devices. Also new to the app is the ability to open PDFs from Mail or Safari, with support for PDF tables of contents and thumbnail navigation.
Of course, due to Apple's restrictions, you can't actually purchase magazines (or ebooks) from within the Kindle app. Instead, you must visit Amazon's Kindle store in a Web browser.
The Kindle app requires iOS 3.2 or later, and a voracious appetite for reading.