I'm often asked for an easy way to record audio playing on your Mac. While there are a good number of programs (such as previous Mac Gem TapeDeck) for recording audio sources connected to your Mac, there aren't many simple ways to record audio from other programs, such as a Web browser, a streaming-audio client, an audio-chat app, or DVD Player. You could use a combination of the free Soundflower and either QuickTime Player or Garageband, as described by my colleague Christopher Breen, but that's a bit of a kludge. Ambrosia's WireTap Studio and Rogue Amoeba's Audio Hijack Pro are designed specifically to record audio from other applications, but at $69 and $32, respectively, and with lots of advanced features, they may be overkill if this isn't a task you perform frequently—or if you want something that's one-click easy.
Rogue Amoeba recently released a simpler and less-expensive sibling to Audio Hijack Pro called Piezo ( Mac App Store link). Designed for people who don't need all the capabilities of Audio Hijack Pro, Piezo is a great little program for recording virtually anything you can hear on, or connect to, your Mac.
The company describes Piezo as "charmingly simple," and it's tough to argue with that. The program's compact, retro-design window shows only a few elements: left- and right-channel level meters, a pop-up menu for choosing the audio source, a flip-clock-like recording timer, the name of the current recording, and a large, metal-and-red Record button.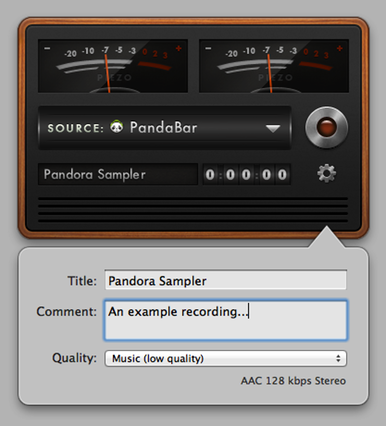 To use Piezo, first you click the Source pop-up menu to choose your audio source. The first time you run Piezo, the menu lists five apps installed on your Mac that the developer thinks you might want to record from, as well as any connected audio devices (your Mac's built-in microphone or line-in jack, a USB-audio device, and the like). If the app you want to record isn't listed, either choose Other Application and use the resulting dialog to navigate to the program, or drag the desired application's icon into the Piezo window. I wish the Source menu included a list of all running programs, as I find that I often want to record an app I'm already using, but this is a minor inconvenience.
Here's where you'll run into Piezo's one hitch: If you choose an app that's not running, Piezo automatically launches that app. But if you choose an app that's already running, you'll see a dialog explaining that you need to relaunch that program to capture its audio. This issue is a result of the Mac App Store's restrictions—in order to sell Piezo through the store, Rogue Amoeba cannot install the system-level hooks that would allow Piezo to record app audio on the fly. (Audio Hijack Pro can perform this magic precisely because it installs such a component.) Click Quit And Relaunch and the chosen program will quit and then relaunch, ready for Piezo to record.
Next, click the recording-name field or the gear (recording-settings) button to enter a name for the recording. You can also enter a comment about the recording, and you can choose the recording quality. Piezo offers five recording-quality levels: 64 kbps, 128 kbps, or 256 kbps stereo AAC, and 128 kbps or 256 kbps variable-bit-rate (VBR) stereo MP3. If those numbers and formats mean nothing to you, the program helpfully names each with a plain-English description: Spoken Word, Music (Low Quality), and Music (High Quality), with AAC files categorized under For Personal Use (since they'll play on any Mac) and MP3 files listed as For Internet Distribution (since some non-Mac users won't be able to play AAC files, but will be able to use MP3 files). If you want to record uncompressed or lossless audio, you'll need to pony up for Audio Hijack Pro.
Then, just click the big Record button (or choose Record -> Start Recording). While recording, the timer displays the total recording time and—my favorite little touch—Piezo's level meters, Dock icon, and Record button light up. When you're done recording, click the Record button again (or choose Record -> Stop Recording); your audio file is immediately revealed in the Finder.
If you start a new recording but forget to change the recording name, Piezo helpfully adds the number 2 to the name; it automatically increments that number for subsequent recordings, displaying a cute flip-clock-style animation as the number increases.
Piezo was just released a couple weeks ago, but the developer has already added a major new feature: While the program could always record audio from voice-over-Internet (VoIP) apps such as iChat, FaceTime, and Skype, Piezo 1.1 separates local and remote audio for easier post-recording processing. Specifically, when using one of these VoIP apps, local audio (your audio) is recorded to the left channel, with remote audio (the voices of other people on the call) recorded to the right channel. You can open the resulting audio file in an audio-editing app and work with the local and remote audio independently. This feature worked well in my testing with Skype and iChat recordings.
Unlike TapeDeck, Piezo doesn't have any recording-management features—you work with your recordings in the Finder. And if you need more recording options, Audio Hijack Pro, for $22 more, offers the aforementioned instant-recording feature, as well as more audio-format and -quality options, tagging features, real-time audio processing, audio effects, scheduled and timed recording, and the capability to capture all audio on your system (including system audio) simultaneously. But for simple, "grab this app's audio" recording, Piezo is tough to beat.
A free preview version of Piezo, downloadable from the Piezo webpage, lets you record ten minutes of audio per launch.
Want to stay up to date with the latest Gems? Sign up for the Mac Gems newsletter for a weekly email summary of Gems reviews sent directly to your Inbox. You can also follow Mac Gems on Twitter.