Did you get a new iPad, iPhone, or iPod touch over the holidays that you want to accessorize? Or maybe you want to use some of your holiday bounty to give your old device new capabilities? Every week we round up the latest in iOS accessories. This week's offerings include headphones for kids, easy charging solutions, car mounts, and more.
Darwin Machine: The $99 Frameshift viewing stand for iPads looks like something the Terminator might use. It's made of aircraft-grade aluminum and stainless steel, with rubber padding to keep your tablet from skittering across the table. The Frameshift is adjustable to offer multiple viewing angles, yet it can be folded flat for travel. It's available in blue or red, and it leaves the iPad's dock-connector port accessible so you can sync and charge while your iPad is in the stand.
Etymotic Research: Unless you're a total Luddite—and you wouldn't be reading this if you were—you know it's tough to keep your iPhone or iPad away from young kids. Yet kids' ears are more sensitive to loud volumes than adults. Etymotic Research tries to preserve youngsters' tender hearing with the Ety-Kids Safe Listening Earphones. The headphones are designed to limit the maximum volume to a hearing—preserving level, while allowing children to hear important real-world sounds around them. The headphones will debut at January's Consumer Electronics Show, with two models available: the $49 Ety Kids 3, which is a standard set of headphones, and the $79 Ety Kids 5, which features an Apple-style, three-button inline remote/microphone module.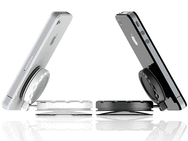 J and M Company: With a successful Kickstarter campaign completed, J and M is ready to launch the $36 MobileMount, a universal kickstand for tablets and smartphones. The device uses two twist-to-lock suction cups—one that attaches to your table or working surface, the other to the back of your iOS device—that allow you to rotate and tilt your electronic device for optimal viewing. The company is currently taking pre-orders.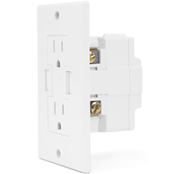 MediaDevil: If there's a problem with the iPad, it's the shiny glare the screen throws back at you in bright light. The $17 Easyscreen Protector offers a matte finish that reduces the glare (and fingerprints) on your screen while adding a bit of pizzaz thanks to ten color options for the protector's screen frame. The protector is currently available only from Amazon.com.
Newer Technology: Looking for a way to skip the middleman when powering up your iPhone or iPad? NewerTech's Power2U AC/USB Wall Outlet replaces your standard AC wall receptacle with one that offers the standard two outlets plus two USB ports, letting you charge your iPhone, iPad, or iPod using only a USB-to-dock-connector cable. You install the Power2U in place of a traditional outlet on any 15-amp circuit with a standard electrical box. A single Power2U is $40 ($28 from NewerTech-affiliated OWC); a 10-pack is $400 ($230 from OWC).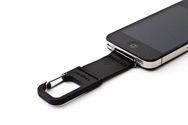 Photojojo: Sometimes you'd like to have your iPhone at the ready, but you're too fashion-conscious to stick it in a belt holster. Photojojo offers an alternative with the $30 iPhone Carabiner Clip. This accessory attaches using the screws on either side of the iPhone's dock-connector port (without obstructing that port) and lets you attach your phone to a belt loop, camera bag, or purse. The clip itself sports a short, leather strap with a metal clasp.
Saelig: Here's a toy for engineers and IT managers: The $200 WiPry-Combo is a combination dynamic power meter and spectrum analyzer that runs on your iPhone and iPad. A hardware sensor plugs into your iOS device's dock-connector port, then you use the free WiPry app to view and interpret the data the sensor collects. In power-meter mode, WiPry acts like an oscilloscope that measures RF amplitude. As a spectrum analyzer, the system lets you visualize radio-frequency signals in the ISM band.
Smart HF: The $129 SmartHRM Wi-Fi Heart Rate Monitor is compatible with the iPad, iPhone, and iPod touch, and it works with several fitness apps including CardioMapper and SportyPal. Strap the monitor to your chest and start your workout, and the monitor transmits your heartrate data to the iOS device, letting you monitor the intensity of your workout in real time, or to view that data later for record-keeping and workout-tracking purposes.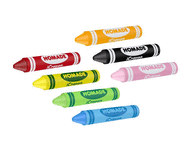 USBFever: As I noted above, kids love iOS devices—and especially art apps. But a touchscreen stylus can seem sterile next to old-fashioned markers and crayons. The $30 iCrayon remedies that problem, giving youngsters a stylish stylus that resembles something out of a green-and-yellow box. The iCrayon is available in seven colors, and it offers one additional advantage: no tiny fingerprints all over your device's screen.
iPhone 4S family
Price When Reviewed:
$599