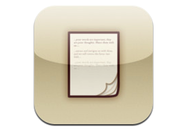 Developer Agile Tortoise on Friday announced its entry in the ever-crowded field of iOS text editors. The company's Phraseology, only for the iPad, is aimed at professional writers and combines a simple interface designed to minimize distraction with a number of tools for analyzing and working with text.
Unique features of Phraseology include a special Arrange view that lets you easily rearrange paragraphs by simply dragging them up or down in a list, and an Inspect tool that provides detailed information about a document. The latter feature includes such metrics as readability scores (based on a number of rating and index systems) and average sentence length. It also provides summary charts, such as a list of the most frequently used words in a document; tap on a word to view every occurrence of that word, in context, in a scrolling list. If you want to replace a particular occurrence with a different word, just tap and you're taken back to the document with the word already selected. If you also have the company's Terminology dictionary app installed, Phraseology lets you look up word definitions and replacements with Terminology instead of iOS's built-in dictionary.
Like many iPad text editors, Phraseology provides a selections of fonts and font sizes, and it supports the Markdown markup language for formatting plain text, offering a live preview and HTML exporting. However, the app doesn't currently support iCloud, Dropbox, or other cloud-storage options, nor does it work with iTunes' File Sharing feature for transferring documents to apps. Instead, you get existing documents into Phraseology by transferring them from another app using iOS's Open In feature; you can export documents out of Phraseology the same way, making the app perhaps more of a complement to other text editors than a standalone editor.
Phraseology is currently on sale for an introductory price of $2; the developer hasn't announced what the normal price will be.