The International Consumer Electronics Show takes place next week in Las Vegas, and as always there will be plenty to trigger our technolust. Teaser press releases from exhibitors augur a new suite of super-thin laptops and mid-range tablets, plus Internet-connected cars and TVs, as well as the latest developments in charging and connecting devices without wires.
What we crave, of course, is more full-blown gadget porn, sleek new devices that blow us away. But the big-name makers have already emptied their collective bag of tricks—Sony's Vita handheld gaming console launched last month in Japan, following the debuts of Amazon's Kindle Fire tablet and the latest iPhone. And those who want actual porn will have to come back to Vegas the week after CES, when the AVN Adult Entertainment Expo comes to town.
Much of the heavy tech action recently has been in software updates, which often don't wait for the big trade shows. Facebook and Google rolled out major updates in recent weeks, and the latest version of Microsoft's mobile OS began appearing in the middle of last year.
Even without any stand-out debutantes, however, CES still sets the stage for the year in electronics.
A major theme at the show will be the streamlined, lightweight class of laptops known as ultrabooks, with dozens of new model announcements expected. Intel CEO Paul Otellini is likely to show off some of the new devices in his keynote Tuesday, while Acer and Lenovo will also demo new models.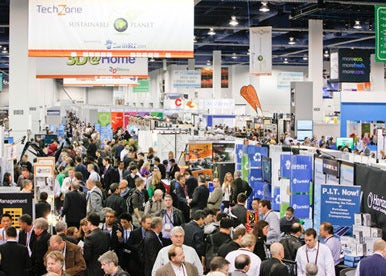 Intel is heavily backing the new class of PCs as a way to combat its weakness in tablets, trademarking the word "Ultrabook" and setting up a $300 million fund to invest in related technologies. Apple's successful Macbook Air has proven that consumers will bite even for $1000, and Intel is hoping that tablet-derived features such as long battery life, quick start-up times and touchscreens will drive their popularity.
IHS iSuppli has predicted ultrabook shipments will reach 136.5 million in 2015, up from less than a million this year, though other analysts have said those figures are too high.
Tablets will also be a big presence. Microsoft, which will makes its final appearance at the show, has reserved the main keynote for CEO Steve Ballmer (a tradition that dates back to the days of Bill Gates). The company is expected to give an update on Windows 8, its first OS for both tablets and PCs. The OS, likely to be released sometime this year, will also be the first to run both Arm and x86 processors.
Analyst firm Sterne Agee said this week that HTC, Lenovo and Acer are likely to show Windows 8 and Android tablets based on Nvidia's Tegra 3 quad-core Arm processors.
With manufacturers such as Samsung and Sony gradually moving toward making their TVs "smarter," with Internet connectivity and downloadable apps, Google pushing its TV solution and the possibility of Apple's entry into the market, a battle is unfolding over how to zip photos and movies around the home without having to connect everything with wires.
Chipset maker Wilocity says it will demonstrate short-range data transfers at speeds of up to 7 Gbps based on the specifications of the The Wireless Gigabit Alliance, or WiGig, which includes Microsoft, NEC and Intel.
This competes with standards such as WirelessHD, which already has products on the market from the likes of Sony, LG and Vizio.
Following in the footsteps of Apple's iCloud, PC makers will also outline strategies to let customers access and synchronize their content over the Internet. Acer is one vendor that has said it will detail its cloud technology at CES, and Lenovo will provide more details about its plans to build cloud services.
Cars are also an increasingly big part of the show. Last year Ford introduced its new Focus Electric at CES, the first time it made such an announcement outside of a major auto show. The company has a keynote this year and has said it will demo its cloud-connected concept car, which syncs schedule and music, can beam data directly between vehicles, and monitors the heart rate of passengers, for the first time in North America.
The head of Mercedez-Benz, Deiter Zetsche, will also deliver a keynote, on "the interplay between automotive innovation and the digital realm," and other major names like Audi will be in attendance.
There will be plenty of new gadgetry on display in Las Vegas, with nonstop coverage from the army of tech press that descend on the town each January. But the halycon years of new must-have items—CES was the launching pad for VCRs, camcorders, CDs, high definition TV, and products like Microsoft's Xbox game console—may be over.
IDG News Service's Agam Shah in New York contributed to this report.