Quark has updated its QuarkXPress design software to version 9.2. Free to all QuarkXPress 9 customers, version 9.2 adds new ePub features, ePub 3 audio and video support, and more options for App Studio.
App Studio is a key component of QuarkXPress 9, offering designers a cost-effective way to create and publish enriched, interactive content to digital devices, such as the iPad. With QuarkXPress 9.2, App Studio templates support iOS 5 Newsstand and meet new Apple guidelines for iCloud storage.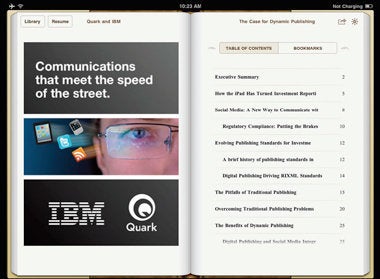 QuarkXPress 9.2 and App Studio also now includes new Play/Pause/Stop/Toggle Play Actions that allow designers to build buttons that control other media elements such as sound and video, a Hide Controls option for sound and video that allows designers to make the control bar for a media player invisible, and a Loop option that designers can use to specify that a sound or video element should loop its playback.
In addition, three different pop-up styles are available: classic, centered, and full-screen, that allows users to select full-screen, scrollable, and zoom-able embedded PDF views. This feature also supports other content types available by WebKit on iOS, including Microsoft Office (Word, Excel and PowerPoint), iWork (Pages, Numbers, and Keynote), and RTF documents. Reduced file sizes for AVE-MAG format issue files exported from QuarkXPress are another new feature.
QuarkXPress 9 introduced the ability for designers to easily export print layouts to ePub to create traditional ebooks. With QuarkXPress 9.2 designers can now, in addition to converting a print layout to ePub, create a new project specifically for ePub export.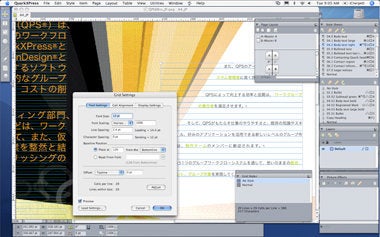 With the new update, it's now also possible to add audio, videos, and hyperlinks to an ePub ebook, create new articles, visually crop pictures, and split text components in a reflow article. Users can re-order components by dragging-and-dropping within the Reflow Tagging Palette and create hierarchical tables of content, as well as control the format and resolution of pictures on a global or picture-by-picture basis. It's also possible to specify the default story direction for East Asian ePub ebooks.
Along with the new ePub functionality, QuarkXPress 9.2 also supports audio and video for ePub 3, the new version of the standard that supports rich media. A full list of new ePub enhancements are available from Quark.