A few weeks back I was finishing up a job in mid-town Manhattan and planning how I was going to get to another location in lower Manhattan without spending a fortune on cabs. I asked the people I was working with what my best options were, and, while nobody knew which subway I should take, everyone knew what app I should grab to figure it out. "HopStop!" was the one answer they all had.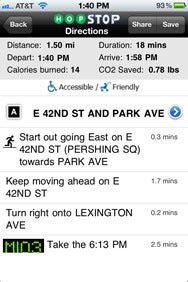 HopStop is a free, ad-supported app for iOS, the Web, and nearly every other mobile platform that helps you find the best, most efficient selection of mass transit, bicycle, and walking options to get you from Point A to Point B. Hopstop.com's iPhone app serves a constantly growing list of nearly 70 cities throughout the US, Canada, and Europe.
After setting a few options for your trip—Are you walking? Riding a bike? Taking the subway, train, bus, or taxi?—you then enter your start and endpoints. HopStop returns a complete set of directions, including information on how long the trip will take, how many miles you'll travel, how many calories you'll burn, and how much CO2 you'll save.
The directions HopStop delivers are accurate and easy to understand and include maps for each segment of your trip. While I did find that a bit of personal knowledge about express subway stops and their proximity to my final destination occasionally shaved a few minutes off a trip, HopStop proved extremely useful in instances when mass transit was undergoing planned maintenance, making trip adjustments and offering information about how these changes might affect my trip.
Once created, directions can be saved in the HopStop app and texted or emailed to someone else. While the app has ads, I didn't find them intrusive and they were certainly worth putting up with for the price of the app.
HopStop is an excellent, easy-to-use tool for helping you find your best mass transit options in a growing number of cities. Whether you're a strap hanging road warrior or a first-time visitor to a new city, HopStop will get you where you're going in no time.
[Jeffery Battersby is an Apple Certified Trainer, (very) smalltime actor, and regular contributor to Macworld. He writes about Macs and more at his blog.]