At a Glance
Expert's Rating
Pros
Uses DECT technology for better audio quality
Excellent quality for speech recognition
Multiple headbands
Cons
No on-off switch
Some settings are difficult to change
Requires dedicated dongle
Our Verdict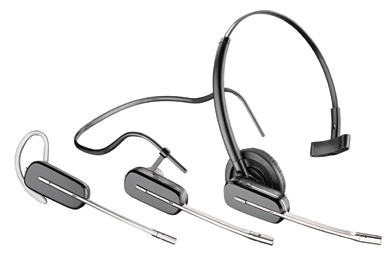 In my microphones for speech recognition buying guide, I discussed wireless microphones that work using Bluetooth or Digital Enhanced Cordless Telecommunications (DECT) technology. Bluetooth headsets tend to offer mediocre sound and speech recognition quality, and DECT (commonly used for telephones in Europe) offers wideband audio for better sound quality, as well as much farther range.
The Plantronics Savi 440 uses DECT, and because of this, it requires a special dongle. If you're using the Savi 440 in an office, you'll probably leave the dongle connected all the time, but if you use it on the road with a laptop, you need to make sure you don't forget to bring the dongle with you.
The Savi 440 is a very light headset, offering multiple ways of wearing the device. With three options (an over-the-head headband with a cushioned earpiece; a behind-the-neck headband; and an over-the-ear earpiece), users will be able to choose what suits them best, ensuring that the headset is comfortable even for long periods of use. Its boom is longer than those of Bluetooth headsets, providing better pickup and better noise cancellation. In fact, of the many microphones I tested, the Savi 440 was the second-best as far as recognition is concerned. (The SpeechWare TableMike, which we will be reviewing soon, came in first.)
This microphone is somewhat finicky regarding the position of the boom and the microphone's volume, and, when using it with Dragon Dictate ( ), I found it best to use the program's microphone setup tool to adjust the volume before each dictation session.
The Savi 440 has no on/off switch, which means that if you dictate for a while, then put the microphone down on your desk, the battery will go on being depleted. The microphone includes two ways to charge it: one is a USB charging cable with a small receptacle, into which you slide the microphone; the second is a charger base, on which you place the microphone. If you plan to use this microphone for a long period of time, it is therefore best to connect it to a charger whenever you take a break. You can also buy additional batteries, which are easy to change, yet you need to charge each one individually and there is no indication of how much power is left at any time, other than a low battery warning.
A number of settings can be adjusted with this microphone, but, unfortunately, the software available for the device is for Windows. You can use a number of esoteric keypresses to change the settings, but you cannot always be sure that they have been applied correctly. In addition, the Windows software lets users see how much power is left in the battery, by way of icons in the system tray. Mac software for this microphone would be a definite plus.
Macworld's buying advice
If you want a light, comfortable wireless microphone, the Plantronics Savi 440 is an excellent choice. This $280 DECT-based headset is more expensive than a Bluetooth headset, but it offers excellent audio quality for speech recognition software, and works well with other speech technologies, such as audio chats using iChat or Skype. The Savi 440 is missing Mac software to manage settings and keep track of battery life, making usage a bit troublesome, but it's a winner for anyone using speech recognition software.
[Senior contributor Kirk McElhearn writes about more than just Macs on his blog Kirkville. Twitter: @mcelhearn Kirk is the author of Take Control of Scrivener 2.]